10 Mar

10 Things that you have to do Before Leaving Seville

How many "Sevilles" are there in Seville? The capital of Andalusia is characterized for its variety of cultural and free time activities. Have you decided to visit us? If you want to learn Spanish in Seville with Centro MundoLengua then we will leave you with a list of 10 things to see and do before you finish your program and fly away. Don´t miss out!

1) Discover the Neighborhood of Santa Cruz – Irene
If you come to Seville to enjoy the city and its atmosphere, you cannot leave without losing yourself in the Neighborhood of Santa Cruz. Its long, winding streets will take you to magical street corners. Follow your instincts and discover the most amazing and legendary spots in the city!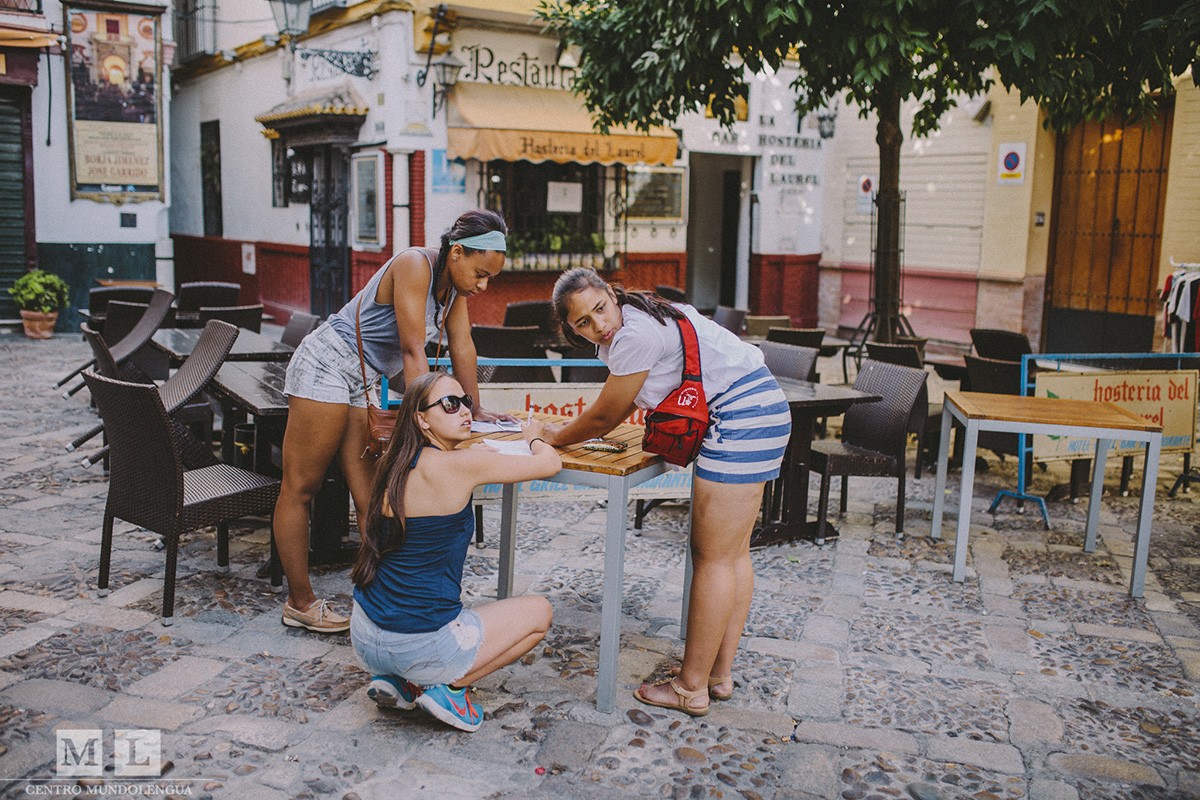 2) Get to know the city by bike – Antonio
Seville has been acknowledged as the 4th city in the world that is best for bicyclers. In addition to being the daily form of transportation for the people of Seville and of those who refuse to use a car, it is perfect for getting a touristy and cultural view of the city. It is ideal for traveling between the different neighborhoods, visiting monuments, and stopping at the most typical bars and restaurants without having to worry about parking.
3) Take a view of the city from the sky – David
In Seville, life in the streets is always bustling. Later life on the city´s terraces is where you can breathe a different kind of air. During the day or night, one cannot leave Seville without knowing one of its terraces that offers different and spectacular views of the city. I have been to many, but not all of them. Could you recommend one to me? For now, I´m happy with the view of the Giralda (Cathedral Tower) from the terrace of Hotel Eme.
4) Get to know Seville from the point of view of a Betis or Sevilla FC fan – Yaye
Our two soccer teams are icons of the city. If you come to Seville you should enjoy the environment of a game and see how the people of Seville live this sport. If you choose to side with Sevilla FC, wear red, and if you choose Betis, wear green. With both teams I am sure that you will live an unforgetable experience after seeing a live game. It will make you a life time fan for one of these teams! Here is a phrase to help you out: Betis fans say "Viva el Betis manquepierda", which means "Long live Betis, even if you lose". Get excited to learn more secrets about our teams.
5) Come during the spring – Isabel
If you are definitely coming to Seville, do it in the spring. The city is flooded with the smell of orange blossoms that transports you to glorious patios of orange trees. This is one of the things that I love most about my dear city! Seville in spring is SIMPLY MARVELOUS.
6) Go on a shopping spree – Noemi
Seville is a great city to pass through its streets with the excuse of finding the best design. From Plaza San Francisco, to the area known as La Campana, you will find Sierpes street, one of the most emblematic, bustling, and lively streets to go see shops. In other cities the style is to go to malls, but in Seville the people love to enjoy the shops that lie throughout the city.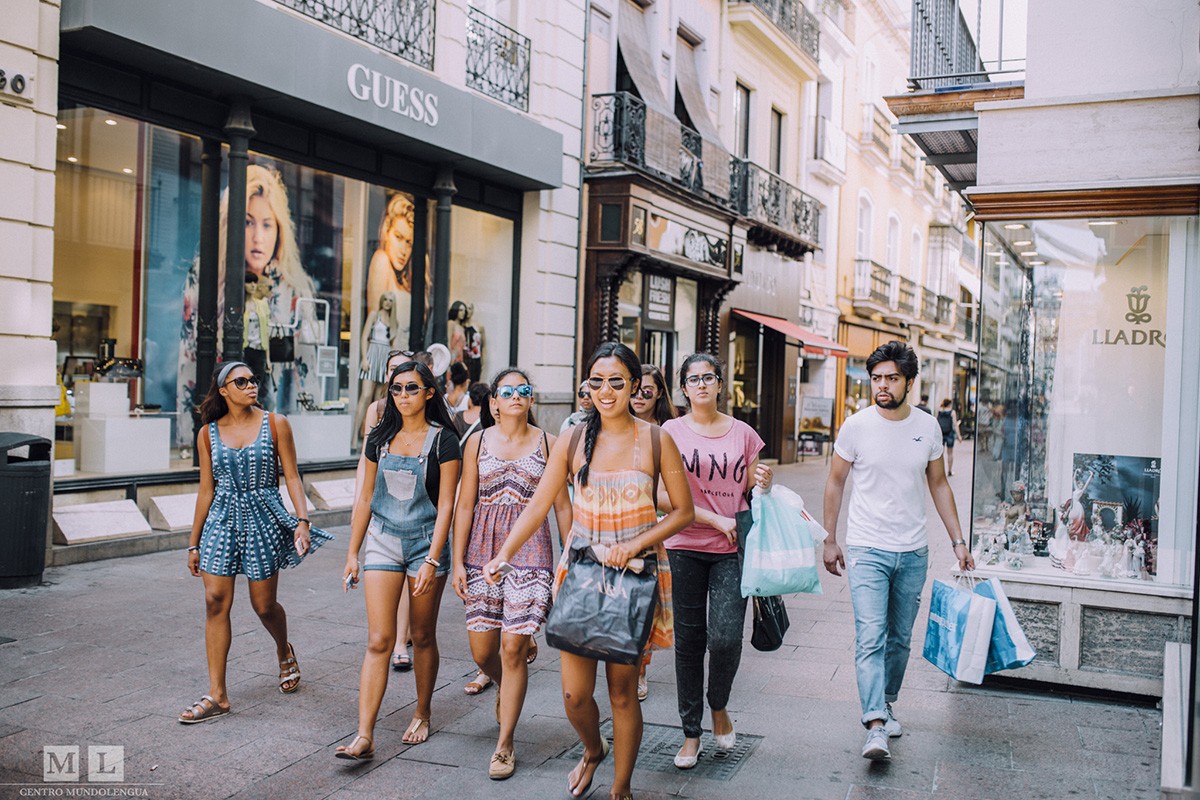 7) Go out for tapas – Nuria
When you come to Seville you cannot leave without going to the multiple tapas bars that the city offers. This particular way of eating that we have in Seville allows you to try many different plates in small portions and to visit various bars in one meal.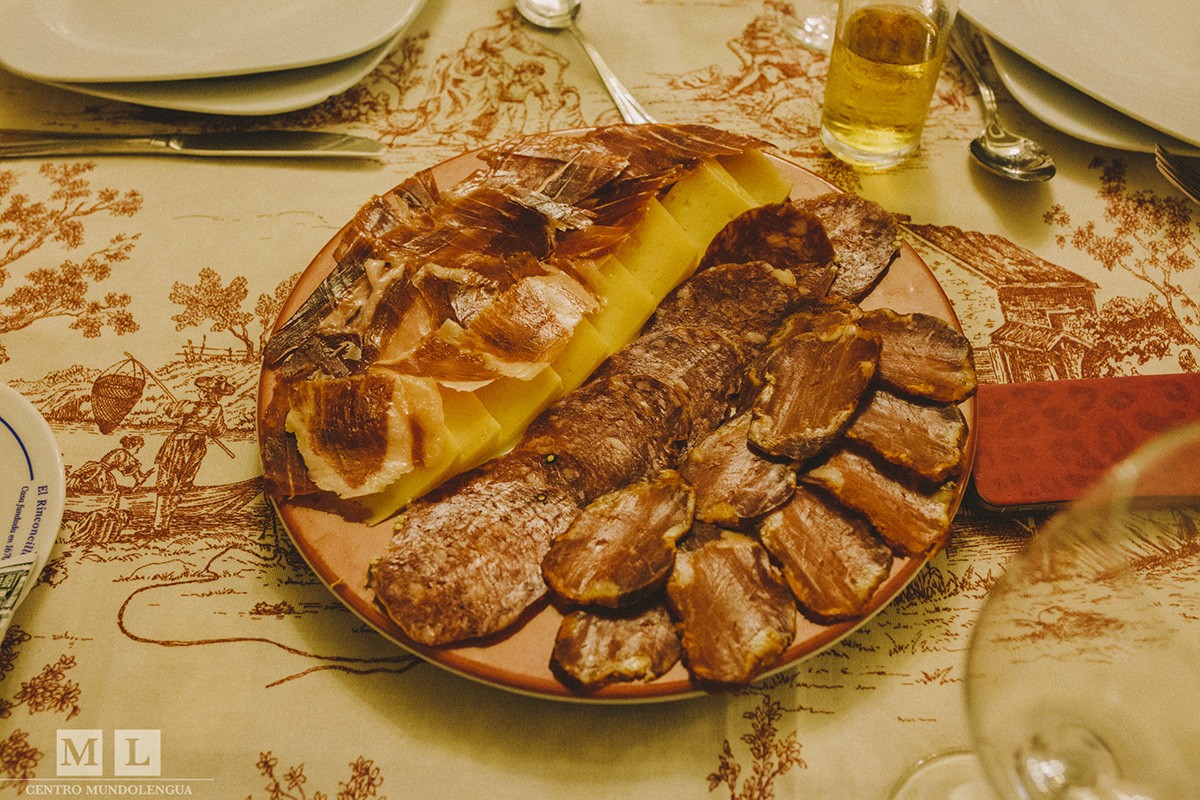 8) Get to know Seville through the April Festival – María
Similar to Russian dolls, Seville has many other cities inside of it. One of the most colorful, joyful, and seductive is Seville during the festival. Diving into it is like having a dream where the horses, flowers, music, and cotton candy take up your vision. The people of Seville dance and dance, and the nights end with churros and chocolate; these nights are different from anything you know. Are you going to lose yourself in it?
9) Take a selfie with the palm tres in Plaza America – Aurore
The setting of the Plaza America is incomparable. It is one of the plazas most emblematic of Seville, known as the Park of the Palm Trees. Feeding the pidgeons is a tradition and one of the favorite activities of our students. Don´t forget to take a selfie and make your friends jealous during your immersion program in Seville.
10) Visit Seville´s museaums – Manuel
You shouldn´t say "see you later" (because it´s never goodbye) to Seville, without contemplating the works that are housed in its two art museums. The Museum of Fine Arts, located in front of the Plaza of the Museum (a calm place to read under the trees), contains paintings from well known Sevillian artists such as Velázquez or Murillo, among others. But if you have a passion for modern art, go to the Andalusian Center for Contemporary Art and reflect on abstract art under a roof from the 16th century. Do not forget to put a visit to the museums of Seville on your schedule!