Objectives:
Create the perfect custom summer program in Spain for your college or university students!
Program Dates:
Flexible dates. From May to August.
Student profile:
All majors and all levels of Spanish.
Custom summer programs for college & university students. University of Cadiz, Spain
Looking for a way for your students to spend the summer having an enjoyable, unforgettable experience while acquiring academic skills, earning college/university credits at a top Spanish university, and staying focused for the upcoming academic year? How about a personalized summer program in Spain for your college / university students? 
With Centro MundoLengua, together in groups your students can study Spanish for the summer in Cadiz, Europe's oldest continuously inhabited city. Our culturally and linguistically immersive programs allow students to have the summer they have always dreamed of, while continuing to develop skills and knowledge that boost their academic careers. Our custom summer programs for college and university students can be completely personalized to match the specific academic needs of your students and curriculum. And in Cadiz, with its countless historical landmarks, bustling tapas bars and food markets and spectacular urban beaches, you students will enjoy an enriching, cultural experience that they will never forget.
Intensive Spanish language program that can be personalized to the precise and specific needs of your student group.
Full language and cultural immersion for students who live with a Spanish host family for the duration of their stay.
Unforgettable summer-abroad experience for students in Europe's oldest continuously inhabited city.

A personalized extra-curricular program that is full of recreational, cultural and social activities for students.
The chance for your students to earn additional course credits that are easily transferable to students' degrees.
Responsive 24 hour assistance in case of any emergency.
Why is a city that historically linked Spain to the rest of the world not better known today? Among Cadiz's quaint plazas, towering cathedrals, bold fortifications, ancient ruins, seafood restaurants, leaning palm trees, Atlantic surf, golden beaches and crisp sea breeze are the fading 3,000 year old footsteps of the great civilizations that have all shaped modern Spain. The Phoenicians, Carthaginians, Romans, Visigoths, Moors and Castilian conquerors all set their sights on this settlement at the mouth of the Mediterranean that now wears the crown of Europe's oldest continuously inhabited city. And Cadiz's coastal location made it the ideal base camp for Spain's exploration of the Americas. The city's central role in Spanish history, along with the high-quality of life available, perhaps explains why Cadiz is the perfect summer abroad destination for students who want to develop their understanding of the Spanish language and the country itself.
Cadiz Cathedral
The most recognizable building in the entire city, the gorgeous baroque cathedral is the first feature you notice when arriving in Cadiz from the air, sea or land. And its soaring domes and bell towers look just as spectacular close up as they do from afar.
Tavira Tower
The highest watch tower in the city at 45 meters in height, the Torre Tavira was built in the 18th century to help the city's inhabitants spot incoming danger on the horizon. Today, the tower still provides excellent views of the entire city, now with rotating viewing binoculars that can point in 360 degrees.
Castle of Santa Catalina
This pentagonal 17th century fortress was constructed to defend valuable Cadiz (and all its wealth) from the British and Dutch navies. Nowadays, this spectacular platform leaning out into the sea contains one of the city's finest modern art galleries and hosts many cultural events throughout the year.
The Port of Santa María
A short hop away from Cadiz is El Puerto de Santa Maria; an historic port on the mouth of the Guadalete River that marks the most southerly point that defines the famous "Sherry Triangle". Here, visitors can enjoy their day at the San Marcos Castle, at the town's famous bullring, at the Victory Monastery and at the idyllic Mayor Prioral church.
Other attractions
But there is so much more! Despite its relative size, Cadiz almost has something new to offer, no matter how long you have been here, including Roman ruins, spectacular palaces, museums old and new, and plenty of fortifications, castles and cathedrals.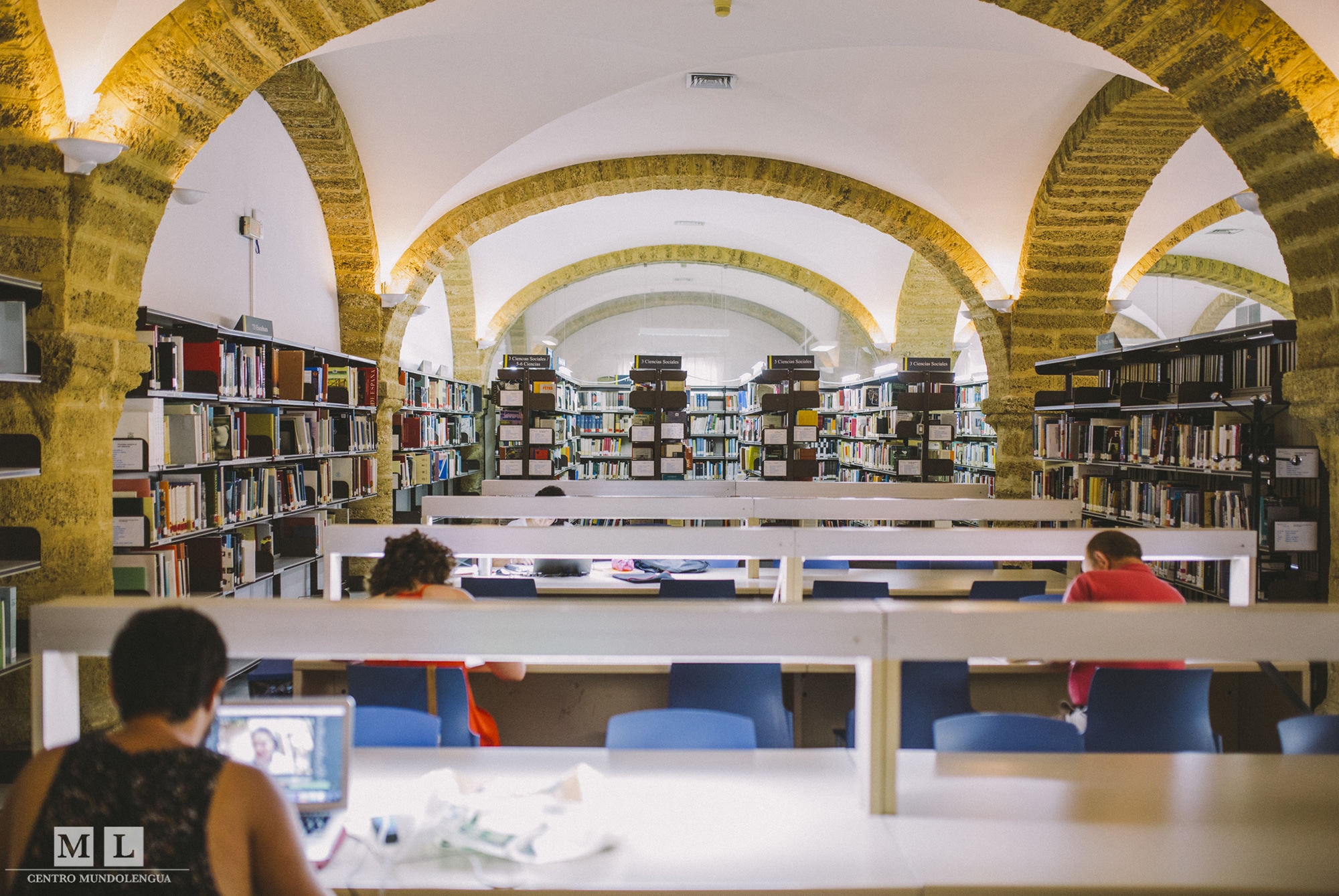 An average and plain campus in one of Spain's most charming and exciting cities would not do Cadiz justice. Fortunately, the campus of the University of Cadiz is as every bit as stunning to look at, as fascinating to spend time in and as inspiring to learn about as Cadiz itself. The main campus building is located on the western headland, among the delights of the city's old town. The views that greet you depend entirely on which window you look; the rising swell and fresh sea air of the Atlantic Ocean lay in one direction, while the extraordinary sights of the Parque Genovés dominate the view in the other. The campus of the University of Cadiz also transverses into the digital realm, with a "virtual campus" available for students to access information and services from anywhere in the world. And after the classes end, the Caleta Beach, one of Europe's finest urban beaches, is right on the doorstep for any of your students who feel like relaxing with the sun, sea and sand afterward.
Language & culture immersion
Throughout the custom summer program, your students engage in full language and cultural immersion thanks to homestays in which students stay with a local Spanish host family! This means that students continue to practice and develop their language skills outside of the classroom in a supportive, comforting environment where students can practice without feeling pressured or embarrassed.
The linguistic and cultural immersion process continues outside the classroom. Our activity program is carefully organized so that your students are able to enjoy their experience as much as possible in fun and engaging activities while continuing to be exposed to the Spanish language and practicing their communication and comprehension skills at the same time.
Development
Your students will have the chance to earn transferable course credits that can contribute to their university degree at their home university, meaning that the custom summer program in Spain can form an integral part of their academic career while being a life-changing experience!
Living abroad, even for a short term such as a single summer, is always an experience that really promotes and contributes to personal growth and development. Students get a unique opportunity to observe how the world works from a different viewpoint while networking with individuals from different backgrounds from all over the world.
Furthermore living abroad forces students to face challenges head on in an unfamiliar environment. The result is profound personal growth in areas such as independence and responsibility, resourcefulness, perspective and, most importantly, increased self-esteem and confidence in ones' own abilities and character.
A period of time dedicated to a productive cause such as extra-curricular study in a foreign country will really stick out on your students' CVs / résumés when they enter the job market.
Social & cultural activities
We prepare a personalized extra-curricular program with you for your students to engage together in fun activities that are designed to assist in the discovery and exploration of Spanish culture. Cultural activities include dance workshops, live Flamenco shows, visits to some of Cadiz's prominent and historically significant monuments and landmarks, trips to traditional town Ferias, paella cooking workshops, a guided tour of a local wine bodega and much more.
Social and recreational activities that allow students to relax and socialize are also part of the program. These can include surf lessons, tapas tours, beach sports, cycling tours, sunset yoga sessions on the beach and Spanish cinema evenings.
Excursions
Spain has such abundant beauty and wonder that to see all of it in one life time is impossible. However, even after deciding with you the excursions and trips you would like to include in your students' program, students get the chance to see as many of the must-visit spots in the area to make their time as memorable and enriching as it can be.
We organize tours and excursions outside of Cadiz's walls and fortifications for students to some of Andalusia's most treasured and loved cities and towns, including grand Sevilla, romantic Cordoba and enchanting Granada.
Custom summer programs for college & university students. University of Cadiz, Spain
What's Included?
Fully customizable. You choose the dates and content of your program. Some components could include:
Services and advice prior to departure to Spain.

Reception at Jerez de la Frontera airport, including transfer to and from airport.
Orientation walk.
Full tuition for the summer at the University of Cadiz.
All class materials used during the program.
Private tutoring.
Official transcript and the chance to earn internationally recognized US / ECTS course credits that can contribute to your degree at your home university.
Accommodation with a local host family, including full board (3 meals a day).
A program of social, cultural and recreational activities (2 per week).
Excursions to other cities in Spain, Portugal, or Morocco.
Volunteer opportunities with local charities and organizations.
24-hour assistance in case of emergency.
Health insurance for the summer.
Request information about this program