Objetivos:
Pursue your professional development in the oldest city in Western Europe!
Niveles:
New and experienced Spanish teachers.
Spanish teacher courses in Cadiz, Spain
Looking for a Spanish teacher course for the summer? There are thousands to choose from, but can you ever substitute being surrounded by native Spanish speakers during the course? And how about having that course at a top university that fits your exact needs in a stunning city with thousands of years' of history?
Centro MundoLengua's Spanish teacher courses are purposefully designed to give Spanish teachers of all experience levels the opportunity to develop their teaching skills in a Spanish-speaking environment. Whether you are new to the world of Spanish-language teaching or a seasoned expert of many years, through our Spanish teacher courses you'll gain numerous new tools, resources and capabilities that will bring your classes and curricula to life.
Participants attend classes at the University of Cadiz for two weeks while engaging in an immersive activity program designed to complement the course content with life-enriching cultural experiences outside the classroom. And by staying with a local host family, you'll get the best possible opportunity to continue developing your understanding of modern Spanish as spoken by the natives. Sound good? Then keep scrolling to learn more about our Spanish teacher courses!
A program catered specifically to your existing level of formal training and professional experience in teaching Spanish as a foreign language, all this at a top Spanish university.
Find your home-away-from-home in charming Cadiz, Europe's oldest continuously-inhabited settlement with over 3,000 years of history.
Full immersion in both the Spanish language and culture with an activities program designed to bring you closer to modern Spanish culture and an authentic homestay experience with a host family.
Boost your teaching abilities with the latest resources, methodologies and techniques specifically designed to aid Spanish-language teaching.
A chance to get your program paid for if you bring a group of your students to participate in another program at the same time.
And don't worry! Centro MundoLengua provides 24 hour assistance in case of emergency.
With 3,000 years of recorded human history in its DNA, Cadiz really is the perfect location to familiarize yourself with the Spanish language, culture, history and traditions in preparation for your new academic year. Its location on the country's Atlantic coast in the far south made it an ideal settlement location for Phoenicians, Carthaginians, Romans, Visigoths, Moors and even Castilians during the age of empire, when Cadiz was the departure point from Spain to the Americas. Yet in spite of its important role in global history, quaint and charming Cadiz is known better for its high quality of life in the 21st century. The locals are indeed renowned for their pleasant accent and friendly disposition, perhaps thanks to the 300 days of annual sunshine Cadiz enjoys, or the fact that here you are never more than a few minutes from a beach. And at the University of Cadiz, you will have access to materials and resources that you can use to boost your own teaching abilities at one of the finest academic institutions in the whole country.

Catedral de Cádiz
The soaring gold and white domes and bell towers of the cathedral were designed to be the first thing visitors arriving to Cadiz by boat would see. In this respect, Cadiz has not changed; your eyes are always drawn organically to the cathedral whenever you look at the stunning Cadiz skyline from a distance. The elaborate baroque design of the cathedral and its elegant facade become increasingly noticeable the closer you get.
Torre Tavira
Built in the 18` century, this famous 45 meter watch tower was constructed to allow the city's inhabitants to spot invaders coming by sea. Nowadays the Torre Tavira maintains its uses and its popularity, as any visitor can enjoy incredible 360 degree views of Cadiz thanks to the rotating viewing binoculars located atop the tower.
Castillo de Santa Catalina
This pentagonal fortification built in the 17` century was originally constructed for a defensive purpose, given the propensity of the British and Dutch navies to attack Cadiz and steal its riches. Today, the Castle of Santa Catalina remains very striking, though it is put to better use by hosting popular cultural events throughout the year and featuring a modern art gallery.
El Puerto de Santa María
A short journey from Cadiz is El Puerto de Santa Maria at the mouth of the Guadalete River. This historic port marks out the most southerly point of the "Sherry Triangle" where the region's fine fortified wines are produced, and a day spent in this small town is always a delight. Some of El Puerto's most popular attractions include the Castle of San Marcos, the local bullring, the Victory Monastery and the Mayor Prioral church.
Otros puntos de interés
And that is not all! Cadiz has ancient Roman ruins, museums, palaces, fortifications and more castles and churches than you would ever think possible.
Educational content
The program equips Spanish language teachers with resources, tools, strategies and techniques that make their curriculum and classes as effective as possible.
Participants are split into programs with content that corresponds to their respective level of professional experience and formal training (Beginner, Advanced and Superior).
Classes are taught in Spanish to emphasize and continue the immersion process.
Classes focus on the practical elements of Spanish teacher training, including for example the chance to observe or lead Spanish classes to non-natives (depending on the program level), simulations of Spanish language exams and the evaluation and grading process of Spanish language exams.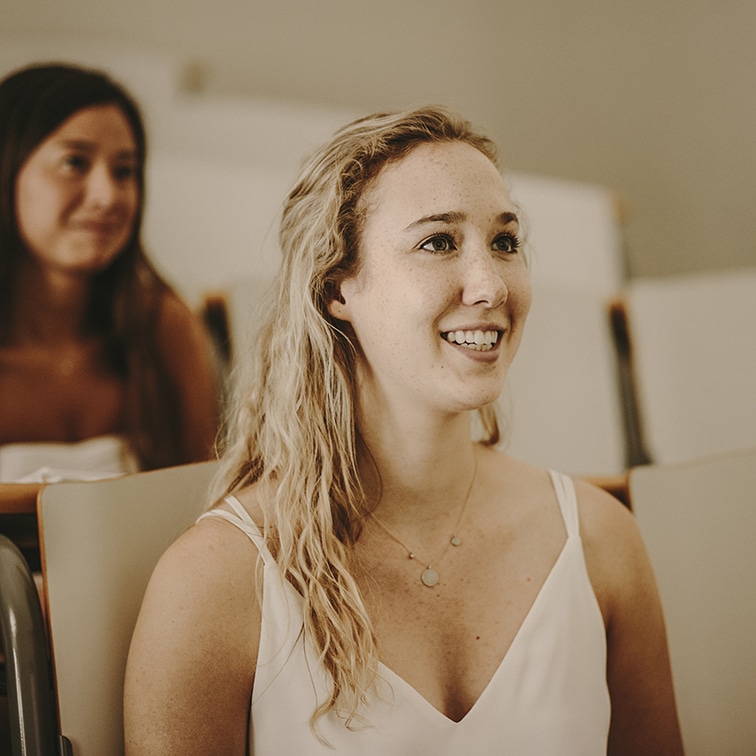 Structure
The program includes 40 hours of training at the University of Cadiz, split over two weeks. In addition, each participant will undertake 10 additional hours of self-study, split between individual work and private tutoring.
Course materials are all included, including those that are specific to Centro MundoLengua.
Participation is formally recognized and rewarded with a certificate, and in many cases the University of Cadiz shall reward participants with transferable credits that are recognized by their home educational institution.
Classes take place in the morning and finish in the early afternoon. The usual daily class schedule is from 9:30am to 2:00pm with a 30 minute break.
Language & culture immersion
From the very first moment, program participants will be fully immersed in the Spanish language and culture. Full immersion will continue for the entire two weeks and is undoubtedly the most effective way to improve your fluency in Spanish and to learn more about the local culture.
You will stay with a local family for the duration of the program in a homestay which will give you the benefit of directly experiencing everyday Spanish customs and routines that form part of their culture. The homestay also gives the participants an unparalleled opportunity to interact with locals in Spanish and observe the language used by modern native speakers.
Social & cultural activities
Our activity program allows participants in the Profesora de español course to familiarize themselves with various elements of contemporary Spanish culture in an enjoyable, entertaining manner.
Cultural activities can include for example live Flamenco performances, Sevillana dancing workshops, paella cooking classes, guided visits to some of Cadiz and Andalusia's most prominent historical and cultural landmarks and monuments and visits to a sherry bodega, among many others.
Nota:El total se dividirá en 1 depósito que vence hoy y 1 pago final. El pago final vencerá 8 semanas antes de la fecha de inicio del programa.
Vee detalles del plan de pago
Deposit: Today
Final payment: July 01, 2022
Arrival: June 26th, 2022
Depart: July 9th, 2022
For Spanish teachers without previous experience or prior training, or those who wish to teach students at a novice level
Nota:El total se dividirá en 1 depósito que vence hoy y 1 pago final. El pago final vencerá 8 semanas antes de la fecha de inicio del programa.
Vee detalles del plan de pago
Deposit: Today
Final payment: July 01, 2022
Llegada: 10 de julio de 2022
Salida: 23 de julio de 2022
For Spanish teachers with experience or prior training, or those who wish to teach students at an advanced level
Nota:El total se dividirá en 1 depósito que vence hoy y 1 pago final. El pago final vencerá 8 semanas antes de la fecha de inicio del programa.
Vee detalles del plan de pago
Deposit: Today
Final payment: July 01, 2022
Arrival: July 24th, 2022
Depart: August 6th, 2022
For Spanish teachers with experience and prior training that wish to teach students at a superior level
¿Qué incluye el programa?
Asesoramiento previo al programa
40 hours of classes.
10 hours of self-study and tutoring combined (ratio is likely to vary per student).
Official recognition of participation in the program and a certificate to confirm your completion of the program issued by the University of Cadiz.
Full class materials.

Airport reception with a representative from Centro MundoLengua and transfer to and from Jerez airport.
Accommodation and full board in a homestay with a local host family.
Paseo de orientación inicial por Cádiz
Program of cultural tours and activities organized by the Centro MundoLengua team.
Seguro de salud.
24 hour assistance in case of emergency.