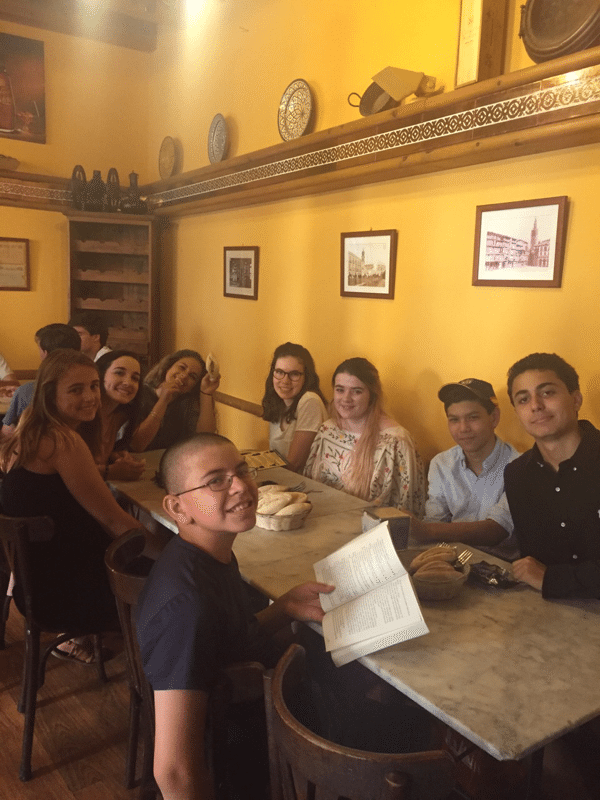 08 Jun

Experiencing Culture Through Food and Family

As our students from Charlotte Latin School and Riverwood High School have begun to settle into their study abroad experience, they have also come across their first big cultural change by living with a Spanish family. All of our students spend their time in Spain living with host families that have been carefully selected by the staff of Centro Mundolengua, in order to allow the students to truly immerse themselves into the culture and lifestyle of the country that they are staying in. The families come in all varieties: some may just be a mother and father or single parent, some may have young children or children that are the same age as the students, some may have older children who either live at home or occasionally visit, and finally some may also be housing other students from around the world. Our students are currently experiencing this first hand. One of our students from Riverwood High School, Rachel Nichols, and two of our students from, Charlotte Latin School, Colin Hayden and Andrew Caltan, were nice enough to give us a little insight into what life is like in their home stay.

The family that Rachel is staying with is made up of a mother and father that have two older sons that come to the house occasionally. She said that the first couple days have been good and that they have been feeding her very well. The language barrier can be difficult at times because most people from Seville that are a part of the older generation do not know English; on the bright side, this places our students in a situation where they have to speak Spanish in order to communicate. At first Rachel experienced this difficulty because her host family expected her to have a greater knowledge of the language than she currently does, but by meeting her halfway and helping her learn they are able to communicate more.

Colin and Andrew are experiencing a similar situation as Rachel with their host families, except that they are also sharing their apartment with other international students. Colin is living with a single mother who has a six year old child along with two girls from the United States who are studying abroad during the summer. Andrew lives with a mother and father who have about six older children that come and go from the apartment and is also sharing the space with five other students. While it seems like sharing an apartment with this many people could cause problems due to limited space, especially because the apartments in Spain are not like the ones we are accustomed to in the United States, this offers an outlet for even more growth, especially if Spanish is the common language within the household.

Aside from living with a Spanish family, another great way to learn about the culture of Spain is through its cuisine. Our students were able to dine at a local tapas bar during their first night in Seville. Tapas come in all shapes, sizes, tastes, and varieties, ranging from a small plate of tortilla Espanola- a quiche made of potato and eggs (my personal favorite) – to an entire plate of gambas a la plancha- whole, unpeeled shrimp that are salted and cooked on a flat iron grill, including the head. While the students were able to try a multitude of different dishes at the tapas bar, a personal favorite among Rachel, Colin, and Andrew was patatas bravas- home fried potatoes that are covered in aioli and a spicy tomato sauce. For the majority of our students this was their first time eating tapas and they were eager to try as many as they could. Hopefully their hunger for tapas as well as the language and culture of Spain only continue to grow throughout their two week stay in Seville.