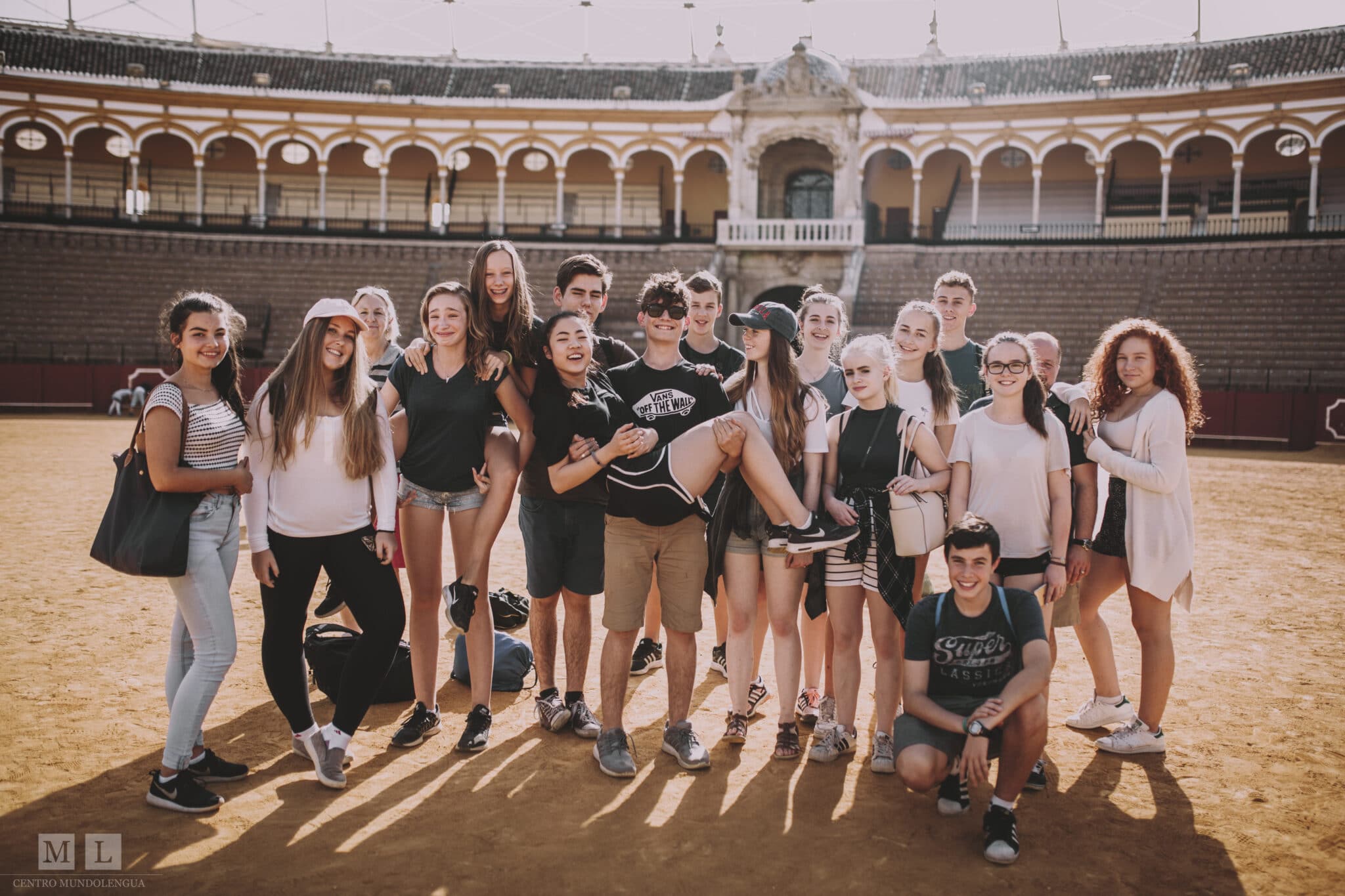 06 Oct

From Russia with Love

Right from the off, our students from the Anglo-American School in Moscow have had an action-packed week. On their first day in Seville they were treated to an extensive tour and orientation where they were acquainted with the many pretty sites which make this city so breathtaking. Their tour-guide, Jesús, aimed to give the students a grasp of the city´s layout as well as outlining the various places they would be visiting during their stay here in Seville.

They were barely given an opportunity to catch their breath before being whisked off to Córdoba where they were given a taste of another major Andalusian city. This visit took all afternoon, and the students got back late at night to their host families, who had their delicious evening meals ready and waiting for them.
Our students on a tour with the Cathedral in the background.
Monday was our American high-school students´ first day of class in our new state-of-the-art facilities in the center of Seville. The main focus of the course, that Mundolengua tailored for its visitors from Moscow, is to improve their conversational  fluency as well as strengthen their grasp of the grammar through total Spanish linguistic immersion. Thus, from here on in, the students were spoken to almost solely in the target language during lessons as well as during the many guided tours that they were treated to this week.  For instance, the students have really cherished this opportunity to study abroad by being proactive in learning the vocabulary they were taught during their excursion to Alcázar; these includes words such as ceramic and plaster, the building materials of the beautiful palace in Seville.
From a cultural perspective, our high school students, on their study abroad trip, learnt about the history of the city through these visits to local sites. To give an example, they were taught about the plethora of different civilizations that have left their mark in the very fabric of Seville´s culture by visiting el Alcázar; a visual representation of this phenomenon. They also experienced other aspects more synonymous with the Spanish culture as a whole, such as visiting the incredible bull ring here in Seville.
In the gardens of El Alcázar.
The aim of the course, that has been tailored for our guests from Moscow, sought not only to show them aspects of the Spanish culture, but also to get them to experience it! Thus, our high school students were taken to a traditional flamenco show as well as treated to a tapas night in one of the top local Spanish restaurants. This gave them a true flavor (if you pardon the pun) of the local way of life, and will hopefully be seen as an unforgettable experience.
Lastly, although this has been a busy study abroad experience, our friends from Moscow were given an opportunity to relax with a fun kayaking tour on the river, giving them a different view of the city and great memories for them to take home to Russia.