27 Apr

Going Crazy Over Spanish food

In my last blog I mentioned key ingredients in a lot of Spanish food, but in this blog, I get to brag about my favorite Spanish dishes! To all my family and friends reading this, you're probably laughing right now just because you know of my love of food and my love of Spanish…needless to say my obsession over these two things combined! Haha! I'll take you through each of my favorite Spanish dishes that feature the key ingredients as mentioned in the previous blog.

Olive oil is the most evident ingredient in Spanish cooking and a staple of Spanish food. It's the base for all the meat sauces served in my house. My host mom keeps tons of it in the pantry (as demonstrated in the pic below). When boiling chicken, pop some onions, veggies, red wine, and spices in there to season up the oil and it makes the perfect sauce to dip bread in. Sometimes, I even drizzle it over mashed potatoes or noodles. No matter how stuffed I am, I always make sure to eat up every drip of olive oil on my plate. Here's a picture of what I had for lunch the other day…now you can see why I'm so crazy about that sauce!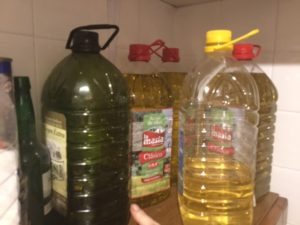 If you like tomatoes, these next two dishes are for you. The part I look forward to the most at every meal is the salad my mom makes. It has lettuce (obviously) , tuna, onions, hard boiled egg, olive oil, vinegar from Jerez (a town in Spain), and of course, tomatoes! The tomatoes are so fresh and makes the whole dish come together. It's so good I often forget I'm eating veggies! And if that didn't sounds appetizing enough, wait till you try gazpacho. Gazpacho is a popular soup-like dish that contains tomatoes, cucumber, garlic, vinegar, salt, and sometime pieces of bread all blended together. It's normally served cold during the blazing hot summer days as a way to cool off. Let me tell ya', it's like tasting a garden That's how fresh Spanish food can be, and, it only takes a matter of seconds to make!
Moving on to another crowd favorite, potatoes! From the second I got here, I was told to try two specific kinds of Spanish food: tortilla española (Spanish omelet) and papas bravas. And guess what, there my favorite foods. Tortilla española consists of diced potatoes seasoned with salt, which is then molded together by eggs. It's a bite of heaven! It's so simple and easy to make! Papas bravas is even easier! It has cooked potato chucks tossed (or covered) in a spicy mayonnaise sauce. So yummy! If you're ever in Sevillla, I can refer you to a bar that, in my opinion, serves the BEST papas bravas…better come quick before I eat them out of business!
Now, no Spanish food or meal would be complete without the meat! The first thing that comes to mind is paella. Paella is normally know as a rice dish, but I love that it offers a variety of meats. You can make it with several types of fish (prawns, muscles, clams, you name it!) or with chicken. For me, I prefer chicken paella. I recently made it in my cooking class and it was to die for. I definitely had a hard time sharing with my classmates. Another personal favorite is called solomillo ibérico al whisky (sirloin with whisky sauce). I imagine most of us Americans will find this appetizing! The sirloin is cooked in a broth with lemon juice, garlic, and whisky! Serve it with rice, potatoes and of course, bread. It's for sure a crowd favorite in my house!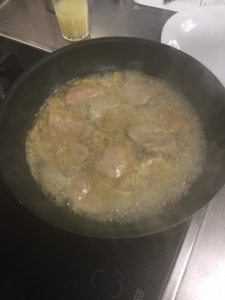 Don't forget those sweets! My host family doesn't give me many sweets, so when I get the chance, I eat as much as I can. In America, we think of cake, brownies, or ice cream as dessert, but in my house, I get fruit. If only you can see my face when I have to eat a banana instead of a gooey chocolate brownie…so cruel! Needless to say, I've become friends with the workers at the local pastry shop. I stop in there every so often to buy my favorite sweet treat, napolitana de chocolate (chocolate croissant). Need I say more? It has the perfect amount of chocolate to satisfy my sweet tooth, and if that wasn't enough, I even get it dusted with powdered sugar! OMG! Once you taste it, you'll have to learn self-control for sure. You can see my excitement for this treat in the featured picture for this blog. Haha!