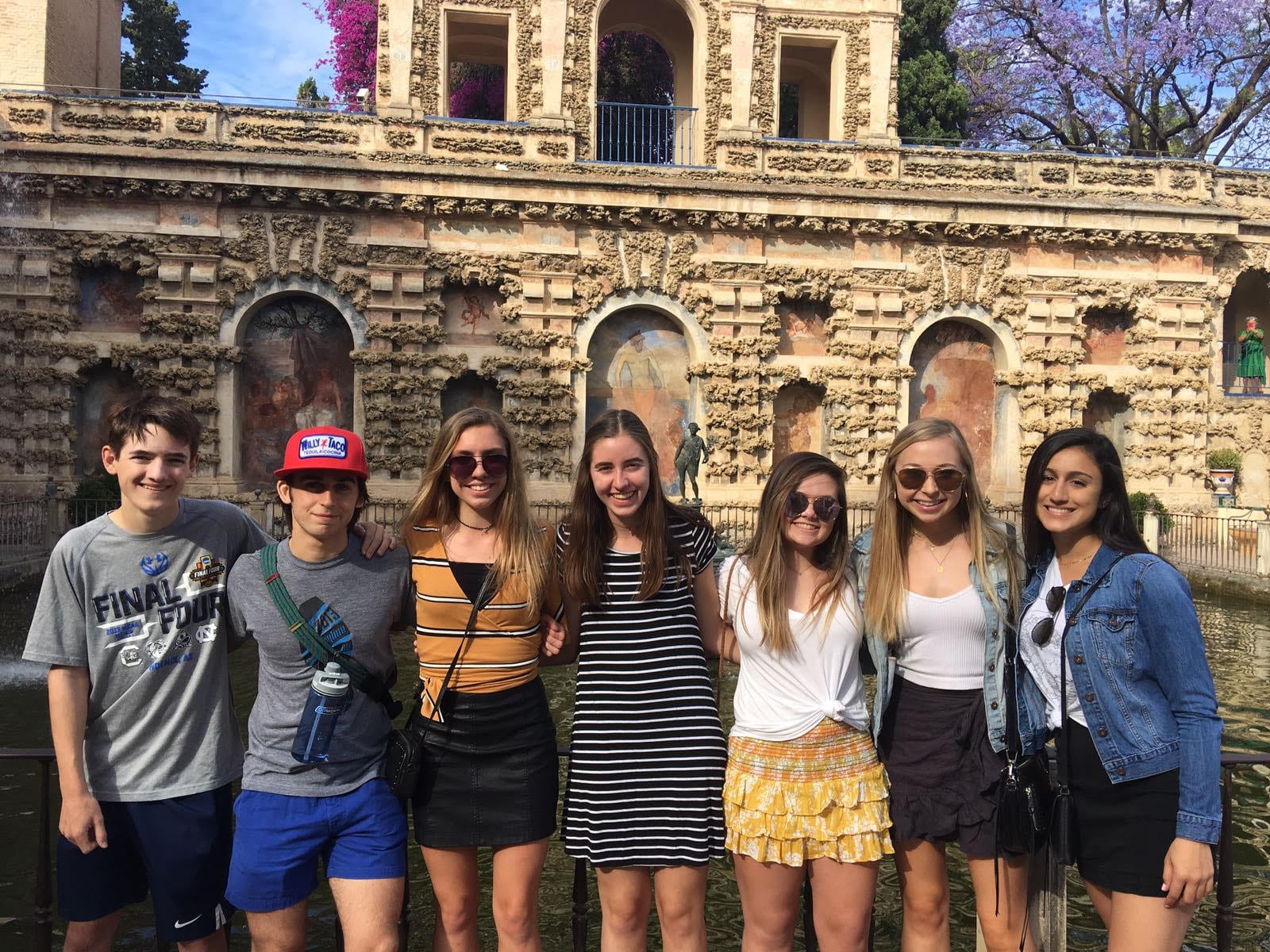 25 Jun

Interview with William and Tiana: High School Summer Program Students in Spain
Here at Centro MundoLengua, our high school summer program students are making the most of their time in Spain! I had the chance to sit down with two students from Charlotte Latin School, Tiana and William, and talk to them about their study abroad experience in Seville.
Read on to learn about their adjustment to life in Spain, their favorite parts of the high school summer program, and what they wish they had known before arriving!
What made you decide to come on this high school summer program?
William: I've been taking Spanish for a while and this was the best year for me to go. I didn't want to wait until college and I didn't want to go last year because I still had more Spanish to learn. This was ideal timing.
Tiana: I wanted to improve my Spanish. The only Spanish I've ever had is classroom Spanish, so I wanted to have an authentic experience and learn about the culture too. I'm a rising junior so I didn't really know a lot of people on the trip, and I wanted to make some new friends.

What's the biggest difference you've seen between Spain and the U.S.?
William: Breakfast! There's so much less emphasis put on breakfast here than in the States. I really like the tapas though, because you can go get food in a couple different places and try different stuff.
Tiana: It took a lot to get used to eating lunch and dinner later, but now I'm okay with it. We eat more for lunch here than we do at home, so we're not hungry until later.


What did it feel like when you first arrived?
William: When I got to Sevilla, it was kind of crazy: we just jumped right into it. Once I met my host mom, she was immediately speaking really fast Spanish and we had to try and figure out what she was saying. Obviously, she didn't speak much English, so there wasn't any… what's "salvavidas" in English? Life vest! There wasn't any life vest.
Tiana: I was really tired after the long flight, but I was nervous to meet my host family and everything. I didn't really know any people on the trip so I was nervous about how that would go. At first, it was hard to get used to my host family because everything's so different from what home. As the week went on, it became easier to talk with our host mom and know what she expected from us.

What are your host families like?
William: I was glad that my host mom had something in common with me; she's a runner too. It was fun, she's got two kids and they're both really nice. We played Fortnite with the younger one and it was a great bonding experience. Video games in Spanish are pretty cool.
Tiana: I was excited because I knew it would be an authentic Spanish experience, not like staying in a hotel. I especially like the food that our host mom has made- I love it! She tries really hard to make sure that we get real Spanish dishes. It was definitely hard at first because I didn't know what to expect and she talked really fast. We've gotten used to it by now and like her a lot, she's really nice. It's her and her two daughters, and we also have two students from Italy living with us.


Do you feel like your Spanish is improving?
William: I definitely think so, you have to use it so much that it's necessary that it improves.
Tiana: I definitely think so too, I found myself thinking in Spanish a lot more – like earlier, the Spanish word will come to me before the English word. I'm more accustomed to it now.


What were your favorite activities outside of class?
William: I really liked going to the "baños arabes": they're these really, really luxurious pools. There are different kinds- one of them is salty, one is hot, one is cold, and there's one on the roof. I also really liked visiting the Cathedral– it was so massive. There's nothing like it in the U.S.
Tiana: Yeah, there's a rooftop pool in the baths where you can see the whole city. The flamenco class was fun too. Portugal was really pretty! We spent the weekend at the beach. We got really sunburned, but we're all getting better now. We also went to Cordoba and saw the Mezquita, which was really cool.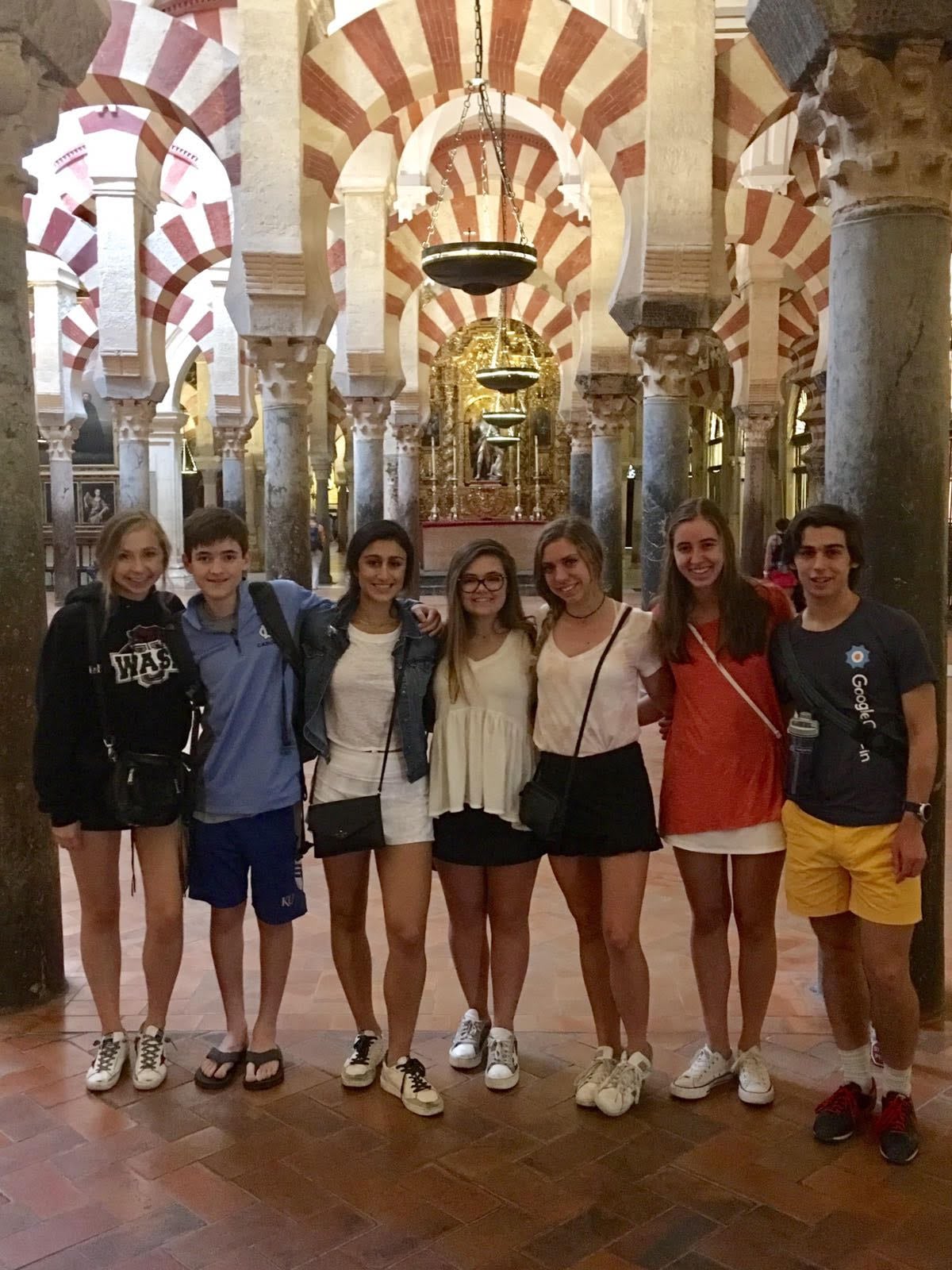 What will you miss about Spain?
William: I think there's just so much of an opportunity to learn Spanish here, which we don't usually have in the States. The ability to find anyone and speak Spanish to them is pretty useful, and to use Spanish to do everyday stuff- I'm not going to be able to do that when I go home.
Tiana: The food and my host family! I've really enjoyed making friends here- we have a really close group from our school.

Is there anything you wish you had known before you came?
William: I like being surprised! I thought everything was fun.
Tiana: I wish I had known to be more patient. When I first met my host mom, I thought it would be so hard because she talks so fast and I couldn't understand anything. As we've gone on, it's gotten much easier.


What would you say to someone who is considering taking this trip?
William: Every day is the equivalent of four Spanish classes back home. Classes aren't too early either, so you get to sleep in. After that you have two activities in the evening, and you still have time to rest! I feel like you see everything here and get to know the city well, and still manage to fit in classes.
Tiana: Definitely do it! It's been an amazing experience so far, I think it's the best way to come here because you get so much done in one day. Everything's so well organized. You're completely surrounded by Spanish here- it's everywhere. You really get to hear it a lot and that helps. If I say something wrong at home, my host mom will correct me and tell me how to say it.
Now that you finished your high school summer program, would you like to come back to Spain in the future?
William: Definitely! I don't know where or when, but I would.
Tiana: Absolutely.

Thank you, William and Tiana, for telling us all about your experience in Centro MundoLengua's high school summer program in Seville! Check out this video if you want to learn more about our exciting high school summer program options.