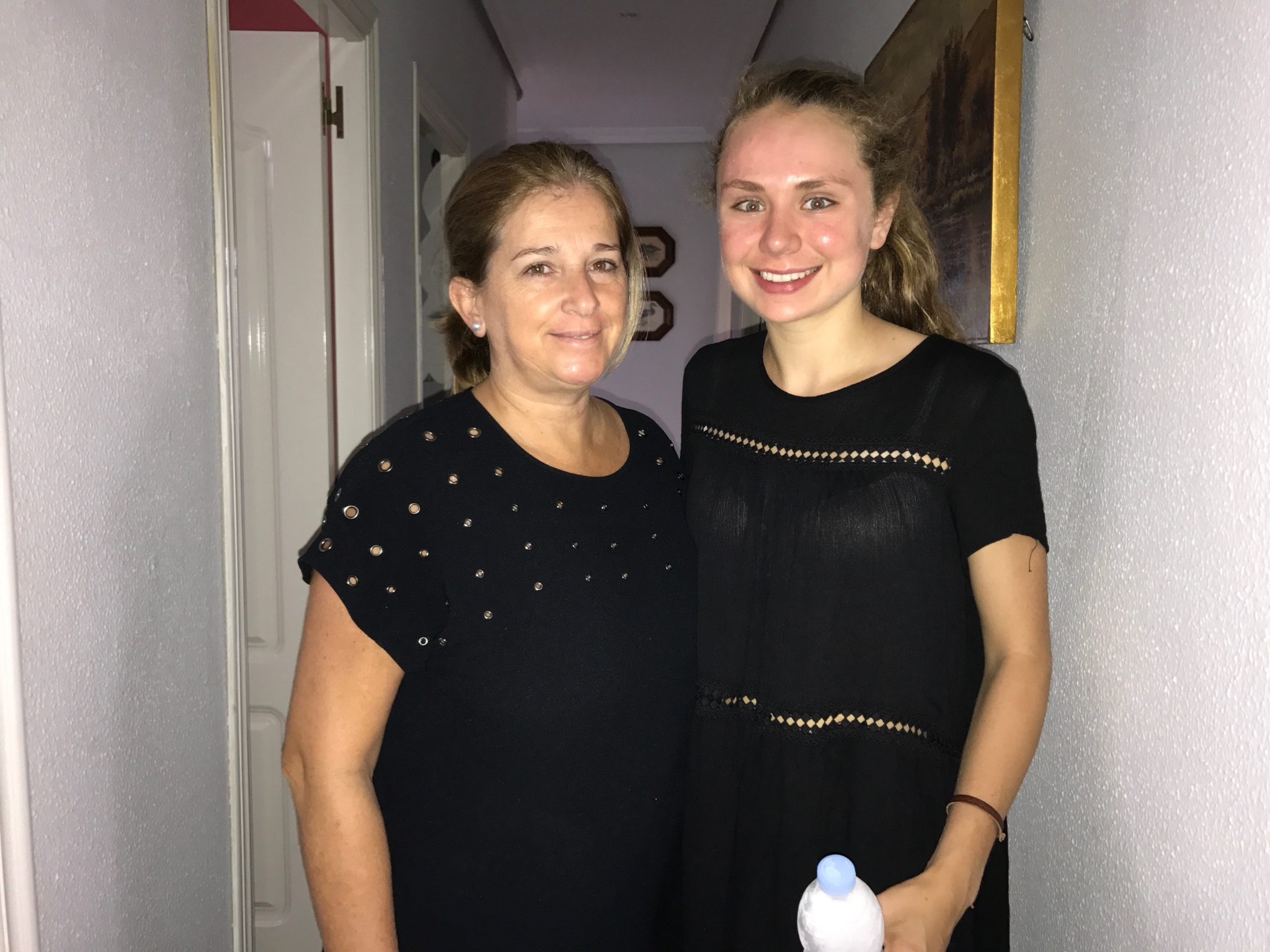 23 Jun

Life as a Spaniard: My Family Home Stay in Seville

The moment I entered through the doorway of what would be my home for the next three weeks, a delightful aroma wafted through the air into my nostrils. Was that freshly warmed bread I detected? My mouth began watering at the thought of my first meal after twelve hours of travel. A smiling woman who introduced herself to me as Angelica ushered me into the living room, where a tray full of Spanish food sat waiting for me on the table. As I hungrily dove in, Angelica explained that she was my host mother and that there were six other foreign girls who would live with me during my family home stay —four from France, two from San Francisco—in addition to her two daughters. She proceeded to ask me about my flight and my travels as a whole, as well as how I was feeling about being in Spain. I had been extremely nervous about my travel abroad program prior to arriving in her home, but her warm attitude as well as her genuine interest in me gave me confidence that this experience would be a great one.

Angelica´s kindness that she demonstrated on my first afternoon here has never ceased. My Spanish is far from perfect, but this doesn´t stop her from finding a way to effectively communicate what she is trying to say. Whenever I have trouble understanding her, she patiently repeats herself at a slower rate or expresses herself in different phrasing. Because of Angelica´s willingness to help me comprehend in Spanish, I can tell that my listening abilities are already improving greatly. Her kindness has also manifested itself in the advice she has given to me. Before beginning my program in Seville, I had never taken a public bus. Our house is quite far from the center of the city, however, so knowing how and where to catch the bus was something that I needed to learn. On my very first afternoon here, Angelica was already telling me which line to take and where the bus stop was, as well as the frequency of buses at various hours of the day. Without her guidance, I would have been spending a disproportionate amount of my time here walking to and from my classes!

One of my favorite aspects of my family home stay is mealtimes. I must admit that before beginning my study abroad, I was apprehensive because I had heard that Spaniards traditionally ate a light breakfast early in the morning, followed by a large lunch at around two in the afternoon and a small dinner at nine in the evening. At home, I often eat several snacks throughout the day, so I was worried that the amount of time between meals would leave me hungry. I am happy to say, however, that I have adapted quite well to this cultural difference. The heat has taken away much of my appetite, so I do not grow particularly hungry between meals. And Angelica makes sure that if I do come to the table hungry, I leave feeling satisfied—she always asks if I would like seconds or if she can bring me anything else. What´s more, every meal here has somehow been just as delicious as that first one! Mealtimes have also enabled me to build relationships with the other members of our house. We dine together as frequently as our schedules permit, and during our meals we have conversations in Spanish. Not only do these conversations give me the opportunity to practice Spanish, but they also allow my housemates and me to communicate effectively and form bonds even though we come from all over the world!

The conversations that I begin with my housemates during meals often carry over afterward, and we sometimes congregate in the living room and talk while watching Spanish television shows. Additionally, as we have grown closer, we have begun going out into the city and commuting to classes and activities together. My family home stay has facilitated these relationships, and for that I am very grateful!

Life with my host family so far has been a wonderful experience. I feel at home here in Seville even though I am almost 4000 miles away from where I live. I can´t wait to see what the rest of my family home stay has in store—and, of course, what other delicious Spanish food is coming my way!