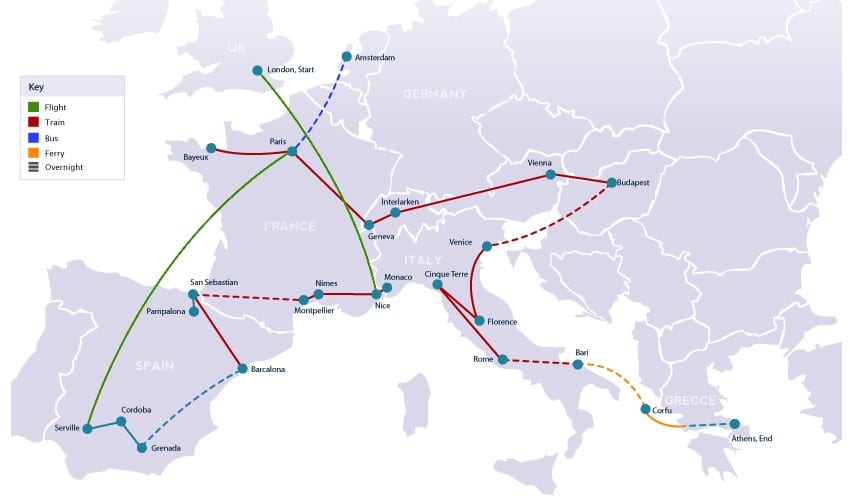 29 Oct

Travel Tips: Transportation

When you're studying abroad in another country you are usually not just there to go to school and see the inside of your room. You choose to study abroad so that you can explore the culture, sights, and languages of another city. In fact, many of us will have picked our study abroad location not just for the city we live in but for the country or greater area that city resides in and of course we will want to explore that as well. What that inevitably entails though is figuring out how to organize trips on your own, maybe for the first time, in a foreign country.  Luckily, I've already been through this struggle and have some advice to get you started!
The first obstacle to traveling is almost always transportation. You know where you want to go but what is the best, cheapest (we are students after all), and easiest way to get there? For students coming from North America you'll be happy to learn that transportation around Europe is generally far easier and cheaper than back home. The main reason for this is you have a wide variety of methods to choose from including planes, trains, and automobiles.
Let's begin with figuring out which one of these is going to be the most efficient in getting you to your destination. Personally, I always like to start by using the website Rome2rio to acquire a good idea about the methods of transportation available and which is going to be the cheapest. Rome2rio lists out the different transportation available and their general price ranges from one destination to another. It is a really great site, especially if you're planning a multi-leg journey or trying to reach smaller towns and aren't really sure where to begin. Their site also provides links to book through directly on the route. I don't tend to use the links because often you can find better prices with a little more hunting. If you do choose to book through the links though pay close attention, you don't want to book the wrong dates or route as many have been known to do in the past!
Now that you have a general gist of the transportation available and their prices let's get a little more in depth on our options on each of them!

Flights:
Flying is almost always going to be the quickest way of getting from one city to another and in Europe it can often be the cheapest! You can thank the many budget airlines that fly all over Europe for that. These airlines (RyanAir, EasyJet, and Veuling just to name a few) are all going to be good at getting you between the big cities across Europe. I like to compare and contrast their prices using Google Flights or Skyscanner as it puts all the prices right  in front of me. There are also a number of other websites you can use, like eDreams, but while they may appear "cheaper" often times they have many additional fees that make it more expensive than booking directly through the airline! The last thing to consider when flying is the cost of getting from the airport to the City Center. Since many of the airports are located outside of the city center be sure to check the price of public transportation or other methods to the center!

Trains:
For those who prefer to keep their feet on the ground, trains are another great way to get around! High speed railways connect almost all the European countries and cities which make it an efficient way to travel. Each country has their own national rail line, like RENFE in Spain and SNCF in France, with which you can book trains between their cities. The national train services are great for those day or weekend trips between a country's cities and the towns that lie a little bit off the beaten path.
However, if you're planning something a little more long term or want to hit a bunch of countries in a shorter time frame there is also the option of the Eurail or InterRail passes. These passes come in various shapes and forms, but they are especially convenient if you want to move around to neighboring countries at your own pace! They give you certain number of travel days over the length of the pass which lets you decide how long you spend in each city! Finding the two days you allocated in Paris not enough? Well with these you can stay another! Just be aware of the specifics of your pass and country as the rules can vary especially when pertaining to the use of high-speed trains. For example, the high-speed trains in France (TGV) usually require a reservation a day in advance where as in Germany this is generally not the case!

Buses:
The last main method of public transportation is buses. Buses are trains slower and cheaper older brother.  Buses will pretty much get you anywhere in Europe, kind of like trains, although because they don´t move at 150+mph they can take significantly longer. That doesn't mean buses shouldn't be considered though! In fact, buses can be a really great option for those shorter trips between close cities because they are much cheaper than other forms of transportation. Look at the bus between Sevilla and Madrid for example, it generally costs about €30 round trip. Compare that to the one way ticket on a Spanish high-speed train (AVE) which is around €50 and that´s some serious savings! Take that 6hr bus at night and you can make that long journey a little less cumbersome and time consuming as well.
The bus companies in Europe tend to be regionally focused, similar to trains, with each country having their own selections. So be sure to look around depending on which country you want to start and end in. A good company to always be aware of is Eurolines, as they have a big network that runs right across Europe. One of my friends even took a 16 hour bus with them from Switzerland to Portugal!

Cars:
Finally, we reach cars. Cars are one of the methods you are the least likely to use during your travels, especially if you're going out at it alone. This is for numerous reasons but most importantly because they are going to be less cost efficient than the other forms of transportation listed above. The other main reason is because driving in Europe is a lot more difficult than doing so in the US with generally smaller roads, signs in a foreign language, tolls on highways, and different rules it can be a challenge to navigate. Still if you and some friends want to rent a car and explore the back-roads of the country go for it!
The more likely method of traveling by car in Europe is through the ride-sharing platform BlaBlaCar. This can be a great alternative to buses or trains as sometimes the prices are cheaper since their posted by local folk looking to reduce the cost of their journey. However, because these are regular people sometimes problems arise and they can be canceled on short notice!
Alright, so that covers the first part of our traveling while your abroad tips. I hope that these tips will be helpful in your study abroad journeys! Next time we will look into the best ways to find a place to stay during your travels now that you've figured out how to navigate to the city. As always remember to be safe when you travel by letting people know where you're going and how you're getting there.
Also be sure to comment with your own tips or questions below. I'm always looking to share and expand my knowledge on all things travel!