24 Jun

Trip to Granada

Studying abroad in Southern Spain means that within a couple hours you have multiple cities at your fingertips. This weekend multiple groups got the chance to travel from Cadiz to explore one of Spain's oldest cities, Granada. Full of rich culture and history, Granada is situated at the foot of the Sierra Nevada mountains, making it the perfect place to be any time of the year. From Saturday to Sunday students from Visitation in Georgetown Washington DC got a chance to experience some of the top attractions in Granada. The trip started off with a visit to La Alhambra, the former castle and military outlook for the Nasrid Kingdom during the 13th century. The students got a guided tour through the gardens, palace, and military sections. During the springtime the gardens are in full bloom and give incredible outlooks over the city of Granada. Here are some great pictures from the students´ visit to La Alhambra.

I got a chance to talk with Juniors Hope Goetzman, Claire Flury who told me a little about their personal experience. They both commented on how they were amazed by how beautiful the gardens at La Alhambra were. They had learned about La Alhambra before in school but were still surprised by how big it was and loved being able to walk around while learning about the historical significance. They both enjoyed walking through the markets and exploring the Moroccan style streets. After a long afternoon of exploring La Alhambra the students were treated to a nice dinner at the hotel and then got to attend a traditional Flamenco show in downtown Granada.
The next day the students headed out to visit the Granada Cathedral which is famous for being the burial site for the Royal Catholic Family of King Ferdinand and Queen Elizabeth. After a guided tour of the cathedral the students took a walk through the Jewish quarters. The streets became small and narrow, winding up the side of a mountain where markets, shops, and houses lined the streets. While it was an exhausting climb, the view from the top was worth it. Here is a picture from the group with La Alhambra in the background.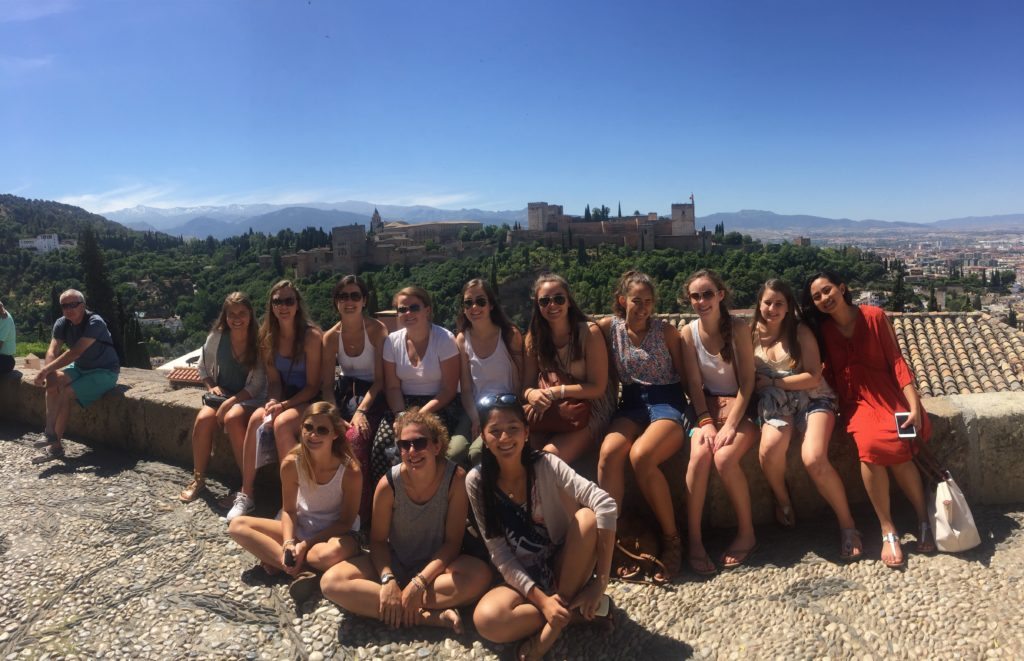 Afterwards the students then had some free time to explore downtown Granada, shop in the authentic markets, try some traditional Spanish food and of course grab some ice cream. Overall a successful trip!