Objetivos:
Help out in the community while improving your Spanish!
Fechas:
19 de junio de 2022 - 2 de julio de 2022
Niveles:
Intermediate (B1) and above.
Programas de voluntariado para jóvenes en el extranjero
If you're familiar with volunteering, you know just how satisfying it feels to give back to your local community and know you've made a positive difference. Now, imagine how rewarding that experience will be when you expand your reach to the global community through our volunteer abroad program for high school students in Sevilla, Spain! While living in the vibrant heart of Andalusia, you'll be able to help those in need while also exploring the sun-drenched city's ancient, cobblestone streets.
You'll spend your mornings serving Sevillians-in-need through activities such as working with marginalized youths, working with the local immigrant population, helping elderly individuals with day-to-day tasks, helping cancer patients, or painting houses for low-income families, among others—and then you'll be able to spend the latter part of the day going on guided tours, exploring the city on your own, and relaxing with friends. Throughout your stay, you'll enjoy hassle-free housing with a native Spanish host family, delicious homemade Spanish meals, fun-filled social and cultural activities, and more! By attending one of our volunteer abroad programs for high school students, you will simultaneously be able to level up your Spanish skills, add a competitive edge to your college application, and create unforgettable memories with new friends from all over the world!
Expand your worldview by helping out Spanish communities-in-need and spending time with Spaniards from a variety of backgrounds! 

Give your college application a competitive edge with global volunteering.
Live in Sevilla—the beautiful, historic capital city of southern Spain, with great connections to many of the country's other top destinations.
Immerse yourself in the Spanish lifestyle by living a Spanish host families—delicious, home cooked Spanish meals included!
Stay active by biking around Sevilla, kayaking in the river, playing sports games, taking dance lessons, and other organized group activities.
Siéntete seguro con nuestro servicio de asistencia y supervisión 24 horas.
Regardless of the season, Sevilla is a fantastic destination for adventurous young travelers. The birthplace of many iconic Spanish traditions, including flamenco, bullfighting, and tapas, Sevilla is the capital of Andalusia for good reason, and it's provides a fantastic setting for our volunteer abroad programs for high school students. With over 2,200 years of history behind it, Sevilla offers countless attractions to its many visitors, including 10 palaces and three UNESCO World Heritage Sites. Whether you're touring the famous gothic castle, exploring the jaw-dropping place halls of the Alcázar, browsing local markets, or simply enjoying a refreshment in a plaza surrounded by fragrant orange trees, you're bound to fall in love with the city's southern charm. Scattered throughout Sevilla's winding cobblestone streets, you'll enjoy guided tours to attractions such as the following:
La Catedral de Sevilla
Este magnífico edificio del siglo XII es la catedral gótica más grande del mundo, declarada patrimonio de la Humanidad por la UNESCO. Aquí está enterrado Cristóbal Colón, en un monumento funerario que atrae a miles de turistas cada año. Al acabar tus clases de AP® español, podrás dar un paseo de apenas cinco minutos para contemplar esta obra maestra de la arquitectura medieval. Dentro, encontrarás una impresionante nave central rodeada de 80 capillas laterales, con una amplia variedad de obras de arte: retablos, cuadros y tallas con siglos de antigüedad.
La Giralda
Con sus más de 100 metros de altura, se alza majestuosa sobre el cielo de Sevilla y es uno de sus señas de identidad más conocidas en todo el mundo. Originariamente, alrededor del siglo XII, era un minarete, parte de una inmensa mezquita sobre la que se construyó la Catedral de Sevilla. Desde su punto más alto, se pueden tomar imágenes espectaculares de la ciudad.
El Real Alcázar
Dating back to the 14th century, this UNESCO World Heritage Site is both a majestic palace and a fairy tale-like complex of royal gardens. In the palace, you'll see one of the world's finest examples of Mudéjar-style architecture, which combines Moorish and Renaissance-erainfluences. In the gardens, you'll stroll through a peaceful array of courtyards, fountains, pools, and paths lined with orange trees, flowers, and hedges—along with the occasional peacock!
La Plaza de España
En este pintoresco lugar se rodó una escena de la saga de "La Guerra de las Galaxias". Es un edificio semicircular abierto a una gran plaza con una espectacular fuente y un canal atravesado por cuatro puentes recubiertos de cerámica. ¡Anímate a surcar sus aguas en uno de los botes de alquiler para turistas! Después, acércate al Parque de Maria Luisa: un pulmón verde de 40 hectáreas con majestuosos jardines por los que no dejan de pasar coches de caballos. Una estampa típicamente andaluza, donde también hay lugar para el disfrute de la naturaleza: en este parque vive la mayor diversidad de aves de toda Europa. Es el sitio perfecto para paseos en bicicleta y yincanas.
El Barrio de Santa Cruz
A tres minutos andando de tus clases de AP® español, este barrio histórico está repleto de intrincadas calles de piedra, que serpentean entre edificios con siglos de antiguedad y plazas repletas de naranjos. A lo largo y ancho de esta particular zona de la ciudad, encontrarás tiendas típicas de artesanía, cerámica, infusiones y otros productos locales. También es conocido como la Judería, por ser el barrio donde vivían los habitantes de la ciudad que profesaban el judaísmo entre los siglos XIII y XV. Actualmente, es el lugar perfecto para pasear y empaparse del ambiente de las calles. ¡Te sentirás como si hubieras viajado en el tiempo!
Metropol parasol
Construido sobre un yacimiento romano que se conserva para su visita, la estructura de madera más grande del mundo es una parada obligada para conocer la arquitectura moderna de Sevilla. Su nombre popular, "Las Setas", proviene de su innegable parecido con un racimo de champiñones gigantes. Una vez que hayas visto los restos arqueológicos, sube a lo más alto de la estructura, desde donde podrás tomar panorámicas irrepetibles de la ciudad.
Otros puntos de interés
Pero esto es sólo una mínima parte de todo lo que Sevilla puede ofrecer. Tampoco debes perderte:
· Plaza de Toros. Construida en el siglo XVIII, es uno de los cosos taurinos más importantes del mundo.
· Archivo de Indias. Contiene toda la documentación histórica relativa al descubrimiento de América. No en vano, Sevilla fue el principal puerto comercial con el Nuevo Mundo durante los siglos XVI y XVII.
· Torre del Oro: a 13th-century, riverside watchtower that provides Sevilla with another iconic landmark.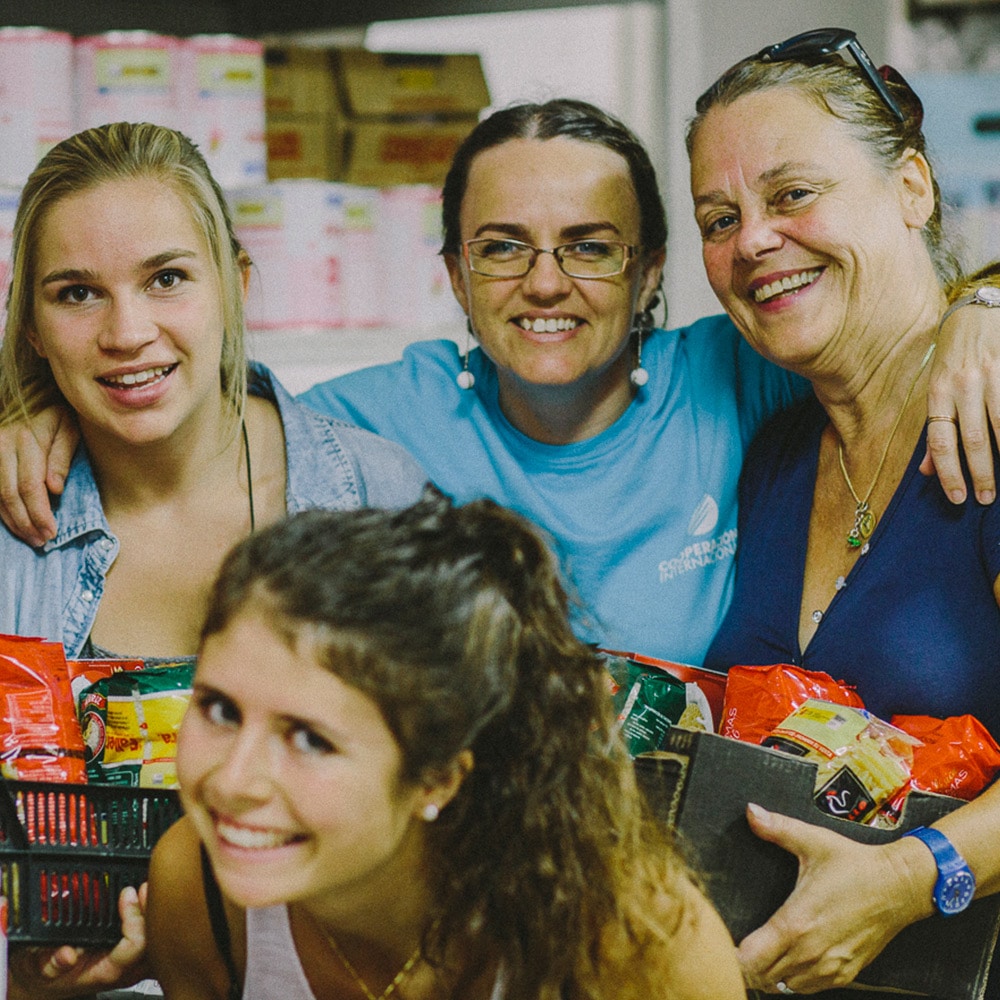 Lending a Hand: Volunteer Experiences
Volunteer with one or more of our partner organizations, which offer a wide range of opportunities to work with diverse groups of people in a variety of settings.

Choose between many different volunteering options, such as:

painting houses, preparing and serving meals, and providing childcare to low-income families;

assisting elderly people with physical and mental disabilities; and

working with marginalized youth via English classes, tutoring, arts and crafts activities, and sports games.

Let us create and organize a custom-made volunteer program for you, based on your interests, preferences, and the amount of time you want to volunteer.
Vivir experiencias inolvidables con actividades de ocio.
Make the most of Sevilla's sunny weather by biking through scenic parks, kayaking down the city's river, and playing sports games with other students in the program!

Spend time with your new friends during organized dances, concerts, dinners, movie nights, and tapas nights.


Explore the city on your own or with friends during your free time! You can make new friends or travel with friends from home, as we welcome pairs, small groups, and solo students alike!
Excursions
Explore other parts of southern Spain and neighboring Portugal on organized weekend trips to the historic, seaside city of Tarifa, Spain, and the charming, seaside town of Tavira, Portugal.
Leveling Up Your Español: Optional Spanish Classes
Hone your Spanish speaking and comprehension skills with optional add-on classes tailored specifically to your needs.


Learn from our friendly, native Spanish-speaking teachers who are equipped with extensive teaching experience.
Vivir en un hogar español de verdad sin complicaciones
Practice your Spanish from the comfort of home by living with one of our carefully selected native Spanish host families.


Disfruta de todas las comodidades de una casa de clase media. No tendrás que preocuparte ni siquiera de la colada.
Comer como un español con menús incluidos
Degusta comida casera española: desayuno, almuerzo y cena incluidos.

Prueba los básicos de la gastronomía española, como la paella, la tortilla, las croquetas y el gazpacho.


Si necesitas un menú especial, sólo tienes que decírnoslo y lo adaptaremos a tus especificaciones.
Si deseas pagar en varios plazos, primero haz clic en PAGO EN 4 PLAZOS y luego haz clic en INSCRÍBETE.
Nota:El total se dividirá en 1 depósito que vence hoy y 1 pago final. El pago final vencerá 8 semanas antes de la fecha de inicio del programa.
Vee detalles del plan de pago
Deposit: Today
Final payment: July 01, 2022
Programas de voluntariado para jóvenes en el extranjero
LLegada: 19 de junio de 2022
Salida: 2 de julio de 2022
¡Últimas plazas!
Intermediate (B1) and above
Nota: El total se dividirá en 1 depósito con vencimiento hoy y 4 pagos a plazos (con un pago con vencimiento cada mes). El pago final vencerá 8 semanas antes de la fecha de inicio del programa. En el caso de que sea imposible realizar los pagos de 4 cuotas debido a una inscripción tardía, los estudiantes deberán recuperar los pagos atrasados.
Vee detalles del plan de pago
Deposit: Today
1º installment payment: July 01, 2022
2º installment payment: July 01, 2022
3º installment payment: July 01, 2022
4º installment payment: July 01, 2022
Programas de voluntariado para jóvenes en el extranjero
LLegada: 19 de junio de 2022
Salida: 2 de julio de 2022
¡Últimas plazas!
Intermediate (B1) and above
¿Qué incluye el programa?
Asesoramiento previo al programa.
Wide range of non-profit organizations and volunteer missions to choose from.
Alojamiento en régimen de pensión completa con familia anfitriona.
Programa de actividades socio-culturales y de ocio.
Excursiones de fin de semana.
Seguro de salud.
Paseo de orientación inicial por Sevilla.
Asistencia y supervisión 24 horas.

Recogida y traslados a/desde el aeropuerto de Sevilla.
Spanish classes (optional add-on).