Objectives:
Encourage your students to give back to the local community!
Program Dates:
All year round.
Levels:
Intermediate (B1) and above.
Service learning trips for high school students in Cadiz, Spain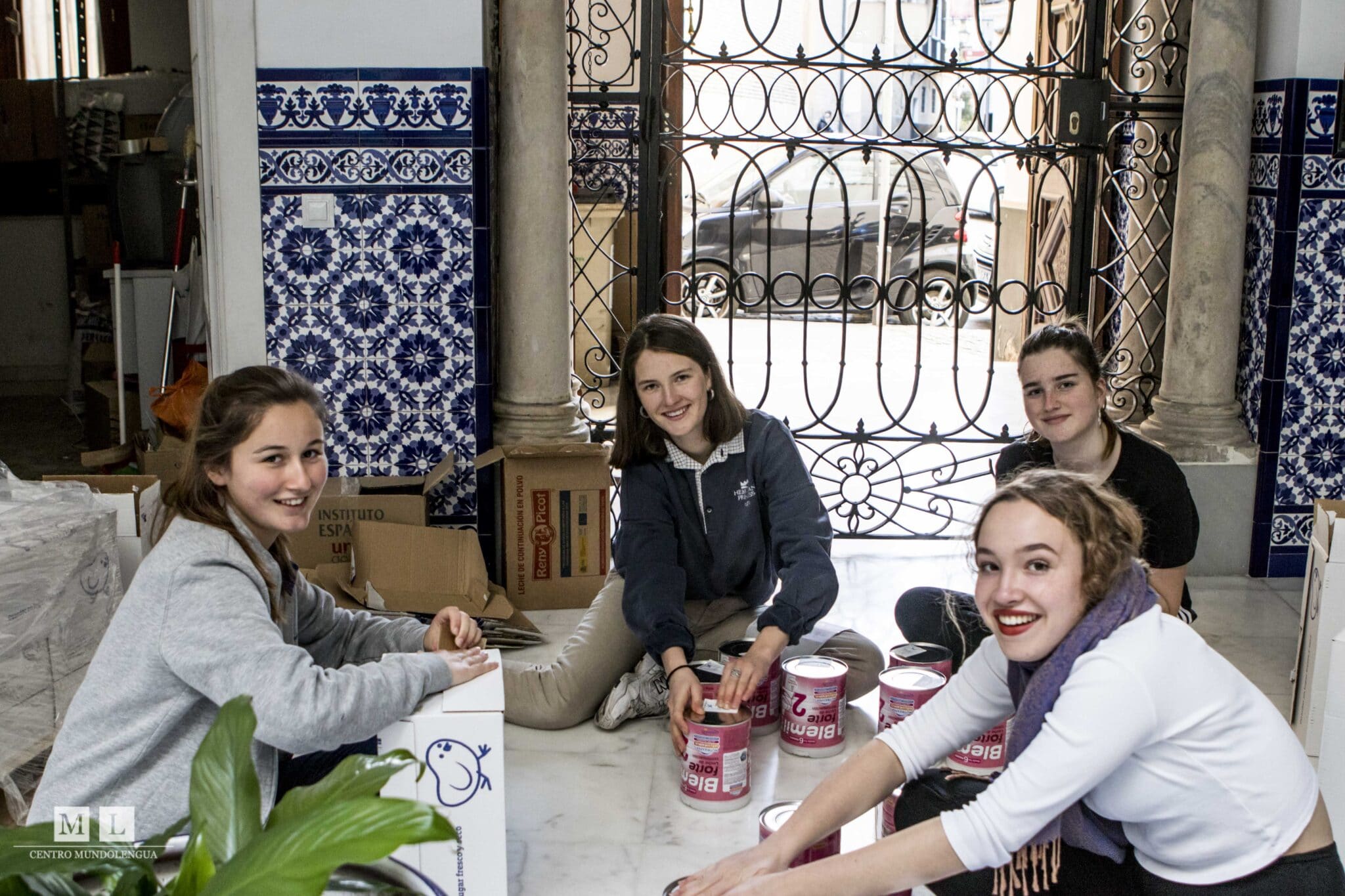 Picture spending the summer in the charming, ancient, and coastal city of Cadiz, Spain, where you can accompany your high school students as they gain valuable volunteering experience, immerse themselves in Spanish culture, live in one of the oldest cities in all of Europe, and kick back and relax on a golden-sand beach, all on the same trip! With the unique opportunities presented by our service learning trips in Cadiz, you and your group can do just that and more! 
During the mornings, your students will join up with one of our partner organizations to volunteer in one of a variety of different ways—from spending time with marginalized youth, to painting houses for low-income families, to serving lunch at a food distribution center. Afterward, your students can reward themselves for all of their hard work by going on fascinating guided tours of historic attractions, attending immersive cultural learning activities, enjoying fun-filled recreational experiences, pursuing independent explorations of the city, and swimming, surfing, and relaxing on the beach! 
Create positive change in the world while simultaneously living by a golden-sand beach in the oldest continuously-inhabited city in all of Western Europe!
Work with a variety of people-in-need in a wide range of volunteering capacities—from painting houses and serving food to helping the elderly and marginalized youths.
Improve their Spanish skills while learning about Spain's history and heritage on guided tours of major attractions and immersive cultural activities.
Stay active and have fun together in the great outdoors by biking through parks, taking surfing lessons, playing sports on the beach, and more!
Enjoy an authentic Spanish experience by living with our friendly, carefully-selected Spanish host families.
Feel safe and secure with 24/7 adult support and supervision from our experienced staff and host families.
Situated right on the Atlantic coast, Cadiz is a popular summer destination for international travelers who value a mix of sightseeing and beach activities. This ancient city is over 3,000 years old, with countless historic attractions that provide testaments to its previous inhabitants—the Phoenicians, the Romans, and the Moors, and, finally, the Spanish. With highly walkable streets, refreshing sea breeze, and over 300 days of sunshine per year, Cadiz is an ideal city to explore on foot—with plenty of local markets, restaurants, cafes, beautiful buildings, important landmarks, oceanfront terraces, and gorgeous beaches to discover. Check out the list of attractions below for an idea of the locations you and your students will visit on your own or on our guided tours!
Cadiz Cathedral
This gorgeous cathedral features intricate baroque architecture, a majestic facade, and a bell tower from which you and your students can enjoy breathtaking views of the surrounding city.
Tavira Tower
Built in the 1700s, this historic lookout tower contains a camera obscura and provides you and your students with even more stunning views of the city.
Castle of Santa Catalina
Originally a fortress that was constructed in the 17th century, this seaside castle now houses a modern art gallery.
The Port of Santa María
This small, historic town is situated on the banks of the Guadalete River, right outside the city of Cadiz, where you and your students can visit San Marcos Castle, the bullring of El Puerto, the church of Iglesia Mayor Prioral, and the Victory Monastery.
Other attractions
The above list of attractions only scratches the surface of what Cadiz has to offer! In the city and the surrounding province, you and your students will find an abundance of other highlights, including Roman ruins, palaces, monuments, museums, and even more castles and cathedrals.
Lending a Hand: Volunteer Experiences
Volunteering on various projects with disadvantaged people from many different backgrounds, under the direction of one or more of our partner organizations.
Choosing from a range of different volunteer activities, such as:

painting houses, preparing and serving meals, and providing childcare to low-income families;
spending time with elderly people with physical and mental disabilities; and
mentoring marginalized youth through English classes, tutoring, arts and crafts activities, and sports games.

Letting us design a service learning trip specifically for them, based on their interests, preferences, and the amount of time they want to volunteer.
Exploring Spain: Cultural Activities
Enjoying the richness of Spanish culture while participating in cultural learning activities like Spanish cooking and dance classes.
Sightseeing around the city and going on tours of historic attractions with our expert guides.
Making Memories: Social and Recreational Activities
Having fun while biking along the beach, taking surfing lessons, and more!
Blending in with the locals during language exchanges and sports games with Spanish teens.
Creating lasting friendships during group activities such as live concerts, group dinners, movie nights, and more!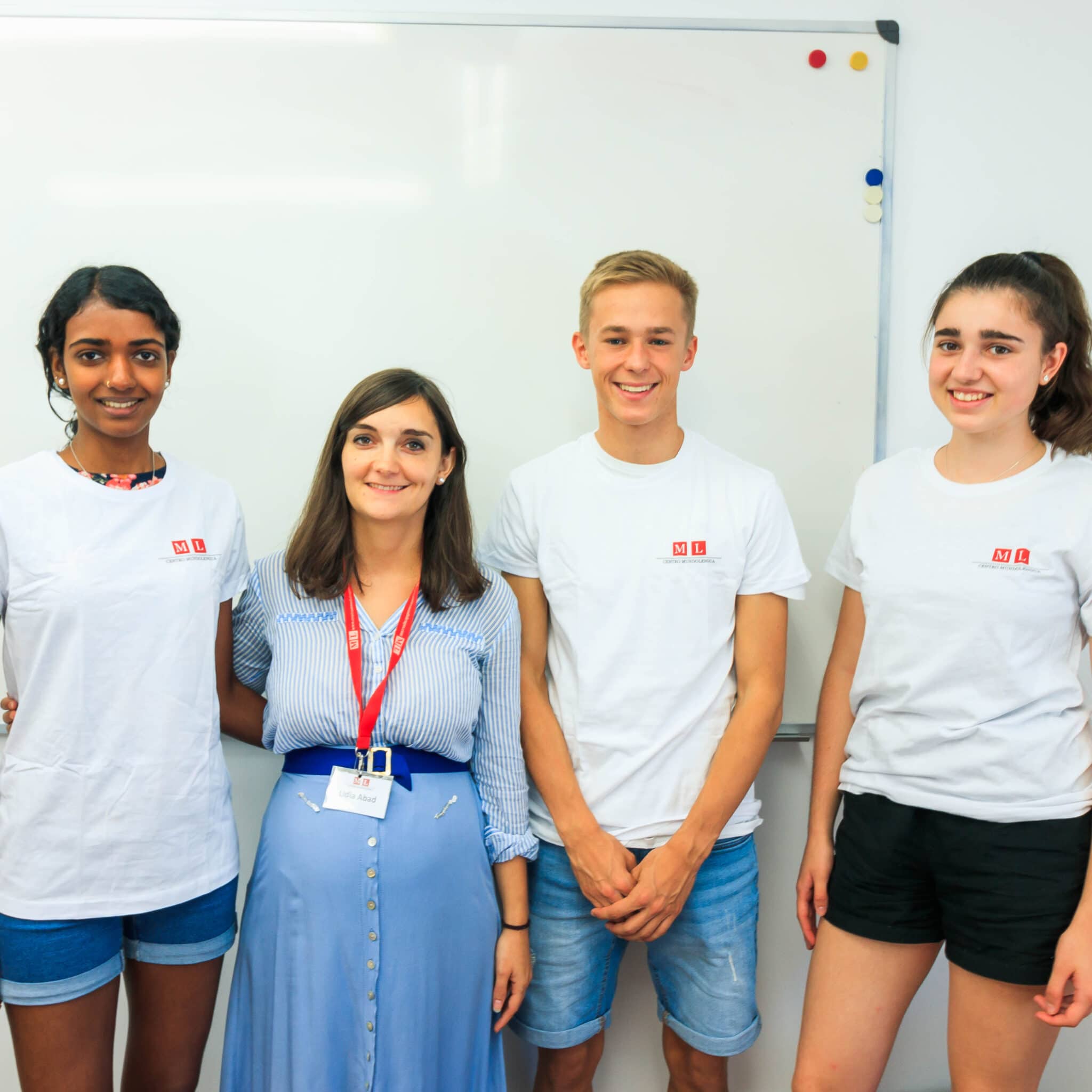 Leveling Up Their Español: Optional Spanish Classes
Practicing their Spanish speaking and comprehension skills with optional add-on classes tailored to their specific needs and levels of Spanish.
Learning under the guidance of our friendly, native Spanish-speaking teachers, who have plenty of experience teaching Spanish as a foreign language.
Living Comfortably: Hassle-Free Housing
Staying in a hotel, a hostel, a student residence, or the comfortable, middle-class homes of our friendly, carefully-selected Spanish host families.
Feeling a safe and secure sense of home-away-from-home, with 24/7 support available from our staff and/or our host families.
Deepening their Spanish immersion experience by sharing meals and conversing with actual Spaniards (if you select the homestay option).
Eating Like a Spaniard: Authentic Spanish Meals
Savoring home-cooked Spanish meals—daily breakfast, lunch, and dinner are included with the homestay housing option and can be added to the other options as well!
Trying out Spanish staples such as paella, tortilla, croquettes, and gazpacho.
Resting assured: special dietary requirements can be accommodated.
If you would like to pay in installments, first click on 4 INSTALLMENT PAYMENTS and then click on APPLY.
The total will be divided in 1 deposit due today and 1 final payment. The final payment will be due 8 weeks prior to the program start date.
The total will be divided in 1 deposit due today and 4 installment payments (with one payment due each month). The final payment will be due 8 weeks prior to the program start date. In the case where it becomes impossible to make 4 installment payments due to late application, students will have to make up any missed payments.
Service learning trips for high school students in Cadiz
Required intermediate level of Spanish
What's Included?
Fully customizable. You choose the dates and content of your program. Some components could include:
Pre-departure consultation.
Accommodation and full board with a homestay family (other accommodation options available).
Program of social, cultural and recreational activities.
Weekend excursions.
Health insurance.
Initial orientation walk in Cadiz.
24-hour assistance.

Airport reception with a representative from Centro MundoLengua and transfer to and from Jerez de la Frontera airport.
Spanish classes (optional add-on).
Free participation in and attendance in the program for teachers and adult chaperones. Other benefits may apply.
Optional airfare add-on.
Request information about this program