Objectives:
Immerse yourself in the Spanish language and culture
Program Dates:
June 19th, 2022 – July 2nd, 2022
Levels:
Intermediate (B1) level of Spanish
Summer programs in Sevilla, Spain for high school students
If you're looking for summer programs in Spain for high school students, you've come to the right place! Our programs in Sevilla offer it all: Spanish immersion classes, guided tours of historic attractions, exciting excursions to some of the top destinations in and around Spain, immersive cultural activities, social events, recreational opportunities, hassle-free housing, authentic Spanish meals, and more—all based in one of the most beautiful, historic, and accessible cities in all of Spain!
Here in Sevilla, you'll be living in the capital of Andalusia—the sun-drenched southern region of Spain, where flamenco, bullfighting, gazpacho, tapas, and other quintessentially Spanish traditions were born. You'll be surrounded by world-class attractions, historic buildings, thousands of years of history, a vibrant culture, and a lively atmosphere of outdoor cafes, cobblestone streets, and plazas filled with friendly people enjoying each other's company. You could hardly pick a better place to spend your summer immersing yourself in the Spanish language and culture—and our Spanish immersion programs for high school students can provide you with everything you need to make the most of your time in Spain!

Level up your Español through Spanish immersion classes and natural opportunities to hone your Spanish in the best place to practice it: Spain itself! 
Soak up the Spanish language and culture by living in Sevilla, the 2,200-year-old capital city of southern Spain.
Delve into Spanish history and culture through guided tours, organized activities, and group excursions.
Make new friends and enjoy your time in Spain via kayaking, bike riding, tapas nights, concerts, dances, sports games, and other social activities.
Feel safe and secure with 24/7 adult support and supervision from our experienced staff and host families.
In Sevilla, you'll be in an ideal place to attend one of our summer programs in Spain for high school students. You won't just be in Spain; you'll be in the culturally vibrant, historically deep-rooted, and architecturally beautiful capital city of the country's southern region—the birthplace of flamenco, tapas, bullfighting, and other iconic Spanish traditions. Here, you'll be surrounded by 2,200 years of Spanish history, 10 palaces, three UNESCO World Heritage Sites, and numerous other attractions, all of which are set into relief by a picturesque backdrop of cobblestone streets, charming old buildings, fragrant orange trees, lively plazas, and tranquil gardens. Highlights include the largest gothic cathedral in the world and one of Spain's most historic neighborhoods, both of which are within a mere five-minute walk from the classrooms where our high school Spanish programs take place in the summer.
The Sevilla Cathedral
Dating back to the 12th century, this magnificent building is the largest Gothic cathedral in the world, the burial site of Christopher Columbus, and a UNESCO World Heritage Site. Situated right in the heart of Sevilla's historic city center, it's just a five-minute walk from the classrooms where the Spanish classes for our summer programs for high school students take place. Inside, you will find a massive nave (or central hall) that's lined with 80 side chapels, featuring a variety of artwork, tombs, carvings, and altarpieces.
The Giralda
Soaring more than 340 feet above Sevilla's historic district, this dramatic bell tower is one of the city's most iconic landmarks. It was originally built as a minaret near the end of the 12th century, as part of the immense mosque on which the Sevilla Cathedral was built. From the top of the tower, you can enjoy breathtaking views of the city below.
The Royal Alcazar
Dating back to the 14th century, this UNESCO World Heritage Site is both a majestic palace and a fairy tale-like complex of royal gardens. In the palace, you will see one of the world's finest examples of Mudéjar-style architecture, which combines Moorish and Renaissance-erainfluences. In the gardens, you will stroll through a peaceful array of courtyards, fountains, pools, and paths lined with orange trees, flowers, and hedges—along with the occasional peacock!
Barrio de Santa Cruz
Situated just a three-minute walk from the classrooms in which Centro MundoLengua's summer Spanish high school program classes take place, this historic neighborhood is full of narrow, winding, cobblestone streets that weave through enchanting old buildings and orange tree-dotted plazas, where you will find charming little shops selling handicrafts, ceramics, tea, and other local goods. Also known as the Old Jewish Quarter, the neighborhood used to be the part of the city where Sevilla's Jewish inhabitants lived. Today, it's the perfect place to walk around, soak up the ambiance, and feel like you've stepped back in time!
The Plaza de España
Providing a picturesque filming location for one of the Star Wars movies, this massive, semi-circular, palace-like building is surrounded by a wide-open plaza, a spectacular fountain, and a scenic canal that is spanned by arched bridges and traversed by rowboats. Right next to the Plaza, you will also find Parque de María Luisa—a 100-acre park that features beautiful gardens, elegant fountains, horse-drawn carriages, and peaceful ponds that are home to a variety of birds. Here, we and our students often go on bike rides and scavenger hunts!
Metropol Parasol
Built atop an underground archeological site that preserves the ruins of an ancient Roman settlement, this modern landmark is the largest wooden structure in the entire world. Because of its uncanny resemblance to a bunch of giant mushrooms, the structure is also known as Las Setas de Sevilla (the Mushrooms of Sevilla). After seeing the underground ruins, you can visit the top of the structure, where you'll enjoy breathtaking, panoramic views of the surrounding city.
Other Attractions
The above list only scratches the surface of Sevilla's many attractions. Other highlights include the following:

Plaza de Toros: one of Spain's most famous bullfighting rings
Archivo de Indias: a UNESCO World Heritage Site that houses some of Spain's most important historical archives
Torre del Oro: a 13th

-century, riverside watchtower that provides Sevilla with another iconic landmark.

Palacio de las Dueñas: a gorgeous, 15th

-century palace that was the birthplace of the famous Spanish poet Antonio Machado and features a flower-covered façade, an enchanting garden, and an eclectic mixture of Gothic and Moorish architectural influences.

Museums: the Sevilla Museum of Fine Arts, the Flamenco Museum, the Archeological Museum of Sevilla, the Museum of Popular Arts and Traditions—the list of museums in Sevilla goes on and on!
Exploring Spain: Cultural Activities
Spend your

summer

 immersing yourself in the Spanish culture through our

high school program

s' fun-filled cultural activities, such as salsa, flamenco, and Spanish cooking classes.


Steep yourself in Spanish history through guided tours of amazing historic attractions—including the largest Gothic cathedral in the entire world!
Making Memories: Social and Recreational Activities
Enjoy social activities like tapas nights, movie nights, dances, and concerts with other international

high school students

who are participating in your

summer

 Spanish immersion

program

.

Spend time outdoors, see Sevilla from a different perspective, and have fun with your fellow students through activities like kayaking, biking, and playing sports.


Meet other international high school students and continue practicing your Spanish outside of the classroom.
Leveling Up Your Español: Spanish Immersion Classes
Attend

4 separate interactive Spanish immersion classes per day lasting 45 minutes each (3 hours of study per day)

, Monday through Friday.


Benefit from the knowledge, experience, and friendly personalities of our Spanish teachers, who are native Spanish speakers and have worked extensively with international students.
Take your Spanish immersion experience to the next level by communicating with native Spanish speakers in markets, stores, and other real-life settings.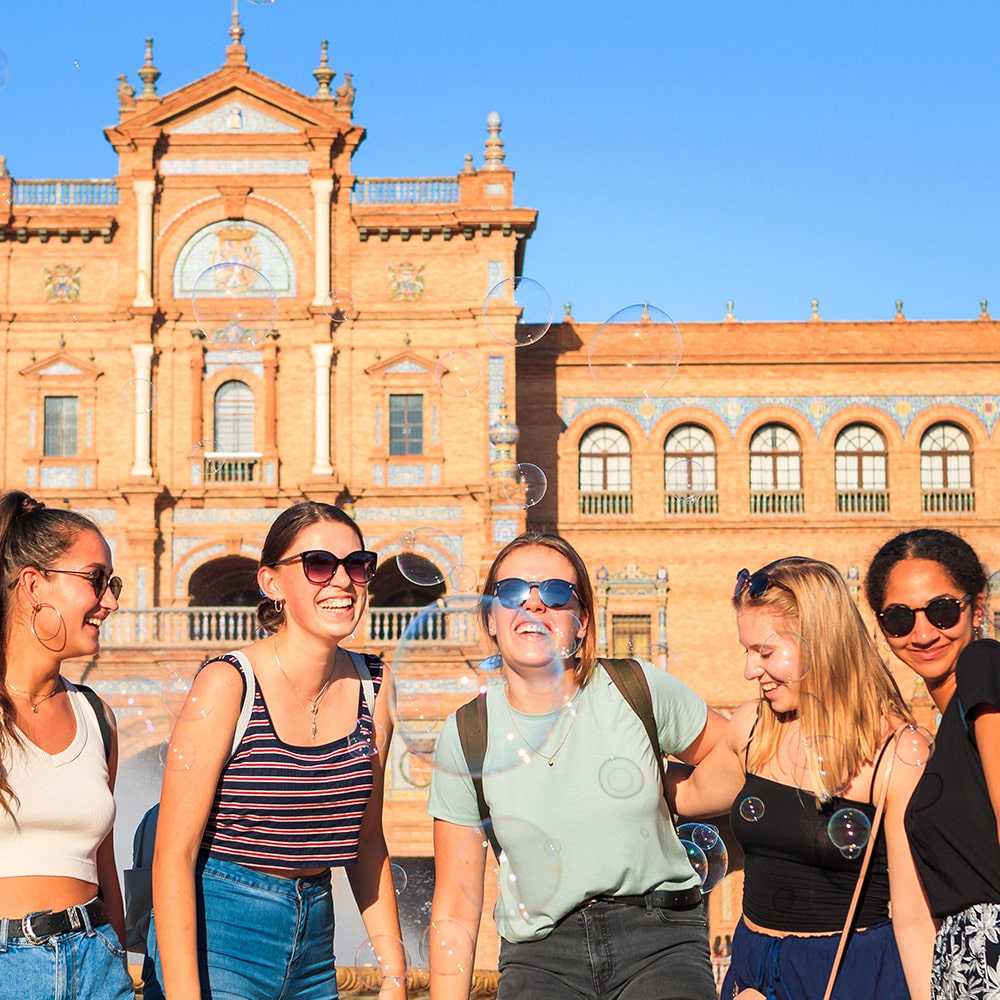 Broadening Your Horizons: Weekend Excursions
Expand your immersion experience by exploring other parts of southern Spain and neighboring Portugal on organized weekend trips to the ancient, seaside city of Tarifa, Spain, and the charming, riverside town of Tavira, Portugal.

Experience the local culture, go on walking tours, and relax on the beach at both destinations!

Enjoy worry-free, hassle-free travel: transportation, meals, adult guidance, and tours are included!
Living in a Real Home: Hassle-Free Housing
Feel a safe and secure sense of home-away-from-home by living with one of our friendly, carefully-selected Spanish host families.

Deepen your Spanish immersion experience by sharing delicious homemade Spanish meals and having real-life conversations with actual Spaniards.


Rest easy with all the comforts of a modern, middle-class home—laundry assistance provided!
Eating Like a Spaniard: Complimentary Meals
Savor home-cooked Spanish meals—daily breakfast, lunch, and dinner included!

Try out Spanish staples such as paella, tortilla, croquettes, and gazpacho.


Have your needs met; special dietary requirements can be accommodated.
Summer programs in Sevilla, Spain for high school students
Arrival: June 19th, 2022
Depart: July 2nd, 2022
Pre-departure consultation
Spanish classes Monday to Friday for the duration of the program (3 hours per day / 4 classes of 45 minutes).
All class materials used during the course.

Official certificate that confirms your participation in this program.
Accommodation and full board with a homestay family.
Program of social, cultural and recreational activities.
Weekend excursions.
Health insurance.
Initial orientation walk in Sevilla.
24-hour assistance.

Airport reception with a representative from Centro MundoLengua and transfer to and from Sevilla airport.
Request information about this program