Objectives
Enjoy Spanish culture firsthand
all while pursuing your professional development
Program Dates
June 25 - July 1, 2023
(option to arrive earlier)
Levels
New and experienced AP® Spanish teachers
AP® Spanish APSI in Seville, Spain
Language and Culture
All teachers know that effective preparation for an upcoming academic year has no upper limit. Every single piece of additional knowledge can make a huge difference to students' study efforts and ultimate academic success further down the line. So why would you choose to prepare for your upcoming AP® Spanish Language and Culture course in any way other than the best?
Centro MundoLengua is the only private language school in Spain whose preparatory AP® workshops have received full accreditation by the College Board®. This means that Spanish teachers participating in our AP® Spanish Language and Culture program receive certified instruction and training at the standard necessary in an environment conducive to continued, professional development. Participating in an AP® Spanish Language and Culture workshop in Spain provides an unparalleled opportunity for cultural and linguistic immersion that is unattainable in similar workshops in the United States or elsewhere. Plus, with various financial incentives and stipends available for teachers who travel together with their students to attend our Pre-AP® Spanish Language and Culture program, there really is no better way to prepare for the new school year!
The only private language school in Spain delivering AP® Spanish Language and Culture teacher training workshops to a standard that is accredited by the College Board®.
Equip yourself with the latest teaching techniques, methods and tools that will directly benefit your students.
Stipends and financial incentives for Spanish teachers that travel with their students in Centro MundoLengua's programs.
Effective networking opportunities with other Spanish language teachers attending the program.
Excursions and cultural activities for participants in the program to gain an unfiltered experience of modern Spanish culture and society.
The workshop is led by world-class instructors in the field of language education.
There is no substitute to full linguistic immersion when preparing effectively for a language teaching course. Choosing the host city can sometimes be a tough process. But in the case of Spain, Sevilla effortlessly stands out from other potential destinations. Cultural context is the framework that allows Spanish language teachers to understand the evolution of the language that they impart, and Sevilla's identity as the spiritual home of many of the cultural traditions that Spain has become internationally synonymous with make it the ideal place to prepare for the upcoming academic year. And besides, Sevilla is an extremely liveable city; its role as the leading transport hub in Spain's south facilitates arrival and travel further afield, and its excellent cuisine is never fails to delight visitors. Yet it is among the city's ancient cathedrals, Moorish patios, cobbled alleyways, quaint plazas, hyper-modern bridges, bustling tapas bars and fiery flamenco taverns where you will truly feel the Sevillano Spirit that has inspired artists, musicians, dancers, performers and even a Hollywood director or two.

The Sevilla Cathedral
The largest Gothic cathedral in the entire world is the ideal place to begin this list. Constructed in the 12th century, the final resting place of none other than Christopher Columbus impresses visitors on the inside as much as the outside, with a giant central nave and 80 side chapels facing it. An outstanding collection of fantastic religious artwork, iconography, carvings and features make the cathedral more than deserving of its UNESCO World Heritage Site status.
The Giralda
And adjoining the side of the cathedral is the single most iconic image of Sevilla. La Giralda was originally a minaret that formed part of the Moorish mosque prior to the Catholic reconquest in the 12th century and was converted into a bell tower by the Castilians. It can be seen from all over the city, and if you manage to climb to the top of this 340 feet high tower, some of the best views of the city and surrounding area are your reward.
The Royal Alcázar
Mudéjar is the world-famous architectural style closely associated with Andalusia that elegantly fuses Christian design and Muslim / Jewish craftsmanship, and the Real Alcázar, a 14th century palace located in the city center, is said to contain the finest and purest elements of Mudéjar work in the entire world. Its network of plazas, fountains, patios, corridors and of course the palace itself were even used to film the hit television series "Game Of Thrones"!
Barrio de Santa Cruz
The Barrio de Santa Cruz is known as the "Old Jewish Quarter" by locals and is possibly the most mysterious neighbourhood in all of Sevilla. This labyrinth of cobbled streets, narrow alleyways and towering stone buildings have a strange way of keeping the rest of the modern world, including its noise and traffic, outside. And as you wander the winding streets of Santa Cruz in the late afternoon while peering at the various plaques and carvings all around that tell the stories of the Barrio's former residents, you may well feel yourself stepping back in time….
The Plaza de España
This semi-circular structure sits directly opposite the charming Parque de María Luisa and was chosen as a filming location for the film "Star Wars: Episode 1 – The Phantom Menace". Its arching fountain, elegant bridges, elegant moat and cavernous archways will therefore be familiar to many viewers, but what they may not be familiar with is the colorful tiled porticos that line the enormous edifice, each one dedicated to a specific Spanish province. Built as recently as 1928, Plaza de España has become of the Sevilla's most popular locations for photography.
Metropol Parasol
Another location that's great for photo enthusiasts is the Metropol Parasol, more commonly known by locals as "Las Setas" thanks to its close resemblance to a giant mushroom. The single largest wooden structure in the entire world sits on top of the city's ancient Roman ruins (that are still accessible to visitors), but as the sun begins to set, you'll want to climb to the top of the Metropol Parasol in order to enjoy some of the finest nighttime views of the whole city.
Other attractions
Sevilla always has something else to offer. Other attractions include:
Torre del Oro, a 13th century observation tower located on the banks of the river that shines brightly in the late evening sun, giving it a golden shine.
Plaza de Toros: Sevilla's bullring is known as the temple of bullfighting as it is one of the biggest of its kind.
Archivo de Indias: this building is yet another UNESCO World Heritage Site in Sevilla, and houses some of the country's most important historical records, archives and documents.
Palacio de las Dueñas: the birthplace of the famous Spanish poet Antonio Machado is a 15th century palace with a striking flower-covered facade and an unusual architectural design that combines both Gothic and Moorish styles.
More world-class museums than you could possibly imagine, including, but not limited to, the Sevilla Museum of Fine Arts, the Flamenco Museum, the Archaeological Museum of Sevilla and the Museum of Popular Arts and Traditions.
Ken Stewart
Ken Stewart was the first ACTFL National Foreign Language Teacher of Year. He spent his entire career at Chapel Hill High School in North Carolina, and more recently taught Advanced Spanish Writing at Duke University.
A National Board Certified high school Spanish teacher, he has taught middle grades through college. He was the recipient of ACTFL's Florence Steiner Award for Leadership in Foreign Language Education K-12.
He has served on the AP® Spanish Language and Culture Test Development Committee, as a question leader at the AP® Reading, and has been a College Board consultant for over 25 years.
He has conducted over 200 workshops and summer institutes throughout the US, Europe, the Middle East, Asia, and Latin America. Ken is the Director of Professional Development with Vista Higher Learning. An aficionado of languages and cultures, Ken speaks Spanish, Portuguese, and some French; he has traveled and worked in 50 countries.
Maritza Sloan
Maritza Sloan received a B.A. degree in Spanish from Oklahoma State University, a M.A. in Education from Hamline University in Minnesota, and an Ed.D. in Social Justice from the University of Missouri – Saint Louis. In addition to her degrees, she has studied Spanish literature at the University of Salamanca, and Santiago de Compostela in Spain.
This is her tenth year of teaching Spanish at Ladue Horton Watkins high School in Saint Louis, Missouri. Prior to Missouri, Maritza taught for 15 years at Plano Independent School District in Texas where she started the AP Spanish Literature curriculum for the district.
Maritza is the sponsor of the Spanish Honor Society in her school where the students are very involved in volunteering work with both their community and the Spanish speaking community in other countries. She also advocated for the Seal of Biliteracy for the state of Missouri and helped Ladue become the first school in Missouri to award the Seal to 22 students in 2018. Every year since 2018 more than 50 seniors obtain the Seal of Biliteracy.
Maritza is a College Board AP consultant for Spanish Language and Culture and Spanish Literature and Culture. She has presented many Spanish Language and Literature workshops and sessions at AATSP, APAC, MFLA, SWCLT, CSCTFL and ACTFL.
Maritza is the Past President for the American Association of Teachers of Spanish and Portuguese, AATSP. Maritza served as the Secondary Education member and then Co-Chair of the Curriculum Development Committee for AP Spanish Language and Culture from July 2012 till June 2019. She is a Co-Author of EntreCulturas 1 a Spanish text book. In 2012 she was named Texas Foreign Language Teacher of the year.
Laura Zinke
Laura Zinke, a native of Arizona, taught AP Spanish, on the campus of McClintock High School, for 38 years, where she also served as the department lead of the Foreign Language Department for 20 years. Laura has been actively involved in AATSP for the past 30 years; serving as the State President of the Arizona Chapter and the National President.
Laura has a Bachelor's degree from Northern Arizona University and a Masters from Middlebury College and is a Gifted Endorsed teacher in the State of Arizona. She has served as a reader, a Table Leader and a Question Leader at the AP Spanish Reading and currently serves as an Assistant to the Chief Reader.
Laura was a member of the AP Spanish Language Curriculum Development and Assessment Committee and served as the high school co-chair of the AP Spanish Language and Culture Committee for five years.
Laura has been an Advanced Placement Faculty Consultant since 1994 presenting both weekend workshops and summer institutes; she has been a presenter at various regional and national and international Foreign Language and AP conferences and is a former Fulbright Teacher exchange participant to Córdoba, Argentina.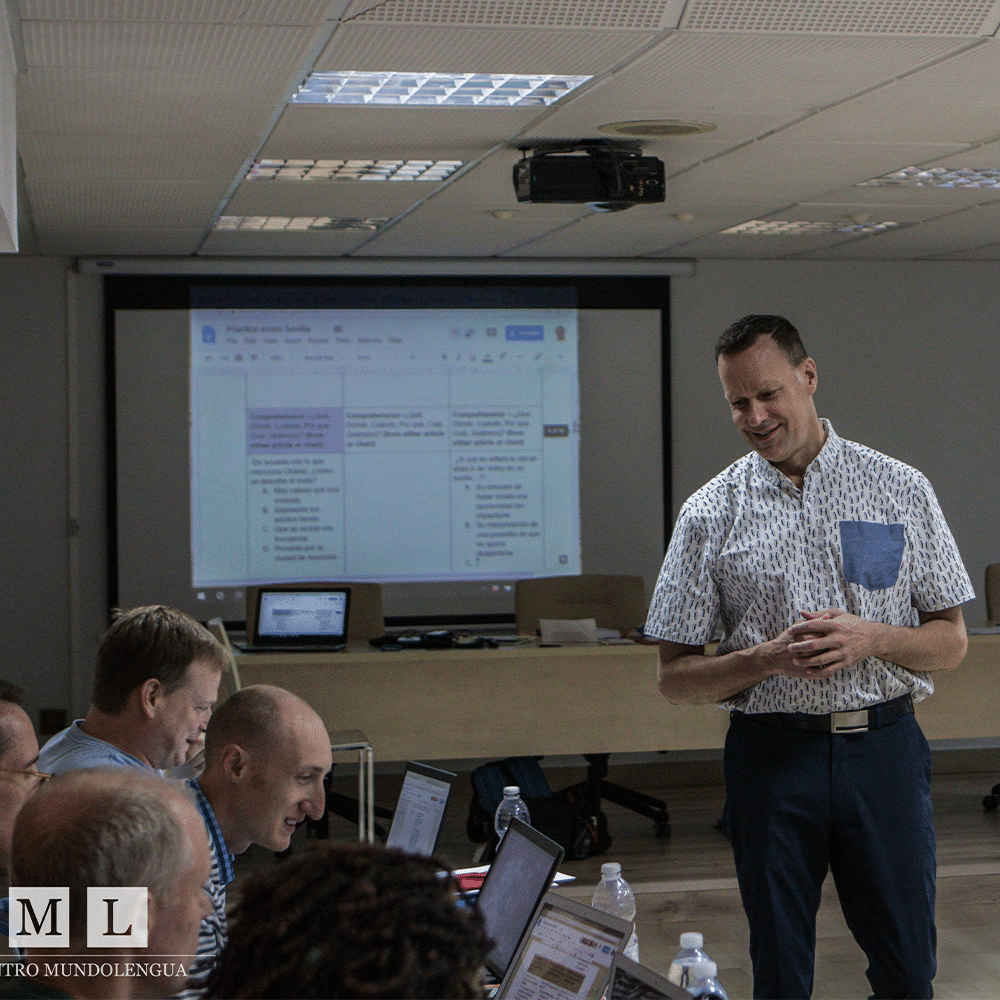 Development
Centro MundoLengua's AP® Spanish Language and Culture program always follows the very latest guidelines and curricula issued by the College Board®, meaning that workshop participants are always receiving the very best training.
Our AP® Spanish Language and Culture programs in Sevilla are the only ones of their kind acknowledged by the College Board® in Spain.
The program is led by leading instructors in the field, with vast amounts of practical experience in the AP® course and examination process, as well as a keen understanding of teacher-training.
Participants in the program will also have the opportunity to earning additional graduate credits from the University of California at Riverside, as well as receiving an AP® teacher certificate from the College Board® itself.
Cultural immersion
Alongside College Board® accredited classes, participants in our AP® Spanish Language and Culture program enjoy in a wide variety of extra-curricular activities organized by the Centro MundoLengua family throughout their stay.
In fact, the first week is entirely dedicated to activities that allow participants to socialize with other Spanish teachers in the program and to feel more comfortable in their new surroundings quickly.
These cultural, social and recreational activities bring a clear benefit to the program; they provide further immersion into contemporary Spanish society, they allow participants to gain a greater understanding of the modern, cultural context in which the target language evolves, they facilitate acquisition of new vocabulary and they complement the content of the classes. And needless to say, they're really enjoyable!
Extra-curricular activities
Some of the activities may include:
Guided tours and visits to some of the city's most significant landmarks where history has been made and where the Sevilla we know and love has been created.
A hands-on introduction to the passionate and dramatic world of Flamenco, initially as a spectator at a show in one of our favourite Flamenco venues and later as a participant in a Sevillanas dancing workshop.
Exploration of the delights of the Spanish cuisine – one of the most recognized in the world – with paella cooking workshops, visits to sherry bodegas and olive oil factories and tapas dinners together with the Centro MundoLengua family.
Take advantage of Sevilla's excellent location to explore other areas of Spain, neighbouring Portugal, Morocco, or even other European countries.
Benefits
Centro MundoLengua understands that it can be difficult for Spanish teachers to fund their participation in the program. We therefore offer rewards and benefits for teachers interested in the program in order to support them financially.
Teachers who choose to travel to Spain with a group of their students to attend the AP® Spanish Language and Culture workshop while their students participate in other programs are eligible for rewards, and the larger the group, the greater the reward.
If you travel with 6 students, you will participate in the workshop for free. If you travel with 10 students, you will also receive an $800 stipend.
Additional benefits and stipends can be rewarded to teachers travelling with larger groups of students to attend our programs. Please contact us for more details.
The total will be divided in 1 deposit due today and 1 final payment. The final payment will be due 8 weeks prior to the program start date.
AP® Spanish Language and Culture
Sevilla, Spain
Housing included
June 18th - July 1st, 2023
New and experienced
AP Spanish Teachers
AP® Spanish Language and Culture
Sevilla, Spain
No housing included
June 18th - July 1st, 2023
New and experienced
AP Spanish Teachers
AP® Spanish Language and Culture
Sevilla, Spain
Housing included
June 25th - July 1st, 2023
New and experienced
AP Spanish Teachers
AP® Spanish Language and Culture
Sevilla, Spain
No housing included
June 25th - July 1st, 2023
New and experienced
AP Spanish Teachers
Pre-departure consultation
30 hours of class
Class materials
Official certificate and recognition from the College Board® for completion of the program.
Initial orientation walk in Sevilla
Program of cultural tours and activities
Option to stay in a homestay with a local Spanish-speaking family in an individual room for the duration of the program

Transfer to and from Sevilla airport if you travel with your students
Opportunity to earn additional recognized Graduate Credits from the University of California at Riverside for completion of the workshop (at an extra cost)
24 hour assistance in case of emergency
Request information about this program
Centro MundoLengua AP® Spanish Language and Culture Summer Institute has been endorsed by the College Board®. College Board®, AP®, Advanced Placement®, Advanced Placement Program®, AP® Vertical Teams, Pre-AP® and the acorn logo are registered trademarks of the College Board®. Used with permission.