Objectives:
Create your own custom or faculty-led program in Spain for your students!
Program Dates:
All Year Round.
Student profile:
All majors, all levels of Spanish.
Customized and faculty-led programs in Spain
Looking for a customized study abroad trip for your class of college or university students to learn Spanish, develop professional skills, progress further in their academic career or experience the rich history and culture of Spain? There are many potential programs out there, but so many simply fail to tailor their service to the specific needs of their students to the degree that they want. For the perfect customized or faculty-led program in Spain, look no further. 
Centro MundoLengua is a private language school in Spain that has been offering the very best study trips abroad in Spain for college and university students since 2005. The classes and content of our programs can be customized to match your specific criteria while offering your college students a unique opportunity to experience Spanish life and culture in a safe environment. No matter what time of year, level or subject or intensity of study, we are able to build a program that is designed for your group of college students. And with a huge array of optional extras from extra-curricular activities to accommodation in a homestay, you can design a program that facilitates your students' personal as well as academic development.
Sounds good? The study abroad trip for your college students is just a few clicks away….

Fully customizable program content to match the specific needs of your students. 
Complete cultural and linguistic immersion available for the duration of the program to make students' time with us as productive as possible.
Choose from a wide range of Spain's extremely liveable and magnificent cities in order to get the perfect study location for your students.
Accommodation and full-board option in a homestay with a local Spanish family – a unique opportunity to experience modern Spanish life.
Opportunity to design an extra-curricular activity program that gives students the chance to get the most out of every single second of their time in Spain.
Responsive assistance available 24 hours a day to ensure your students' wellbeing throughout the program.
The members of the Centro MundoLengua team know Spain inside out, from top to bottom. We therefore are able to pick a handful of locations that best suit your criteria for a customized or faculty-led program and build the ideal study program in Spain for your students. Be it historic Sevilla, modern Valencia, cosmopolitan Madrid, elegant Barcelona, quirky Bilbao or anywhere and everywhere in between, simply let us know what sort of experience your students are looking for and we will select the perfect locations to achieve this.
Centro MundoLengua has full-time facilities in two cities in Andalusia, the most populous region of Spain. These are Sevilla and Cadiz, where the majority of our study programs take place.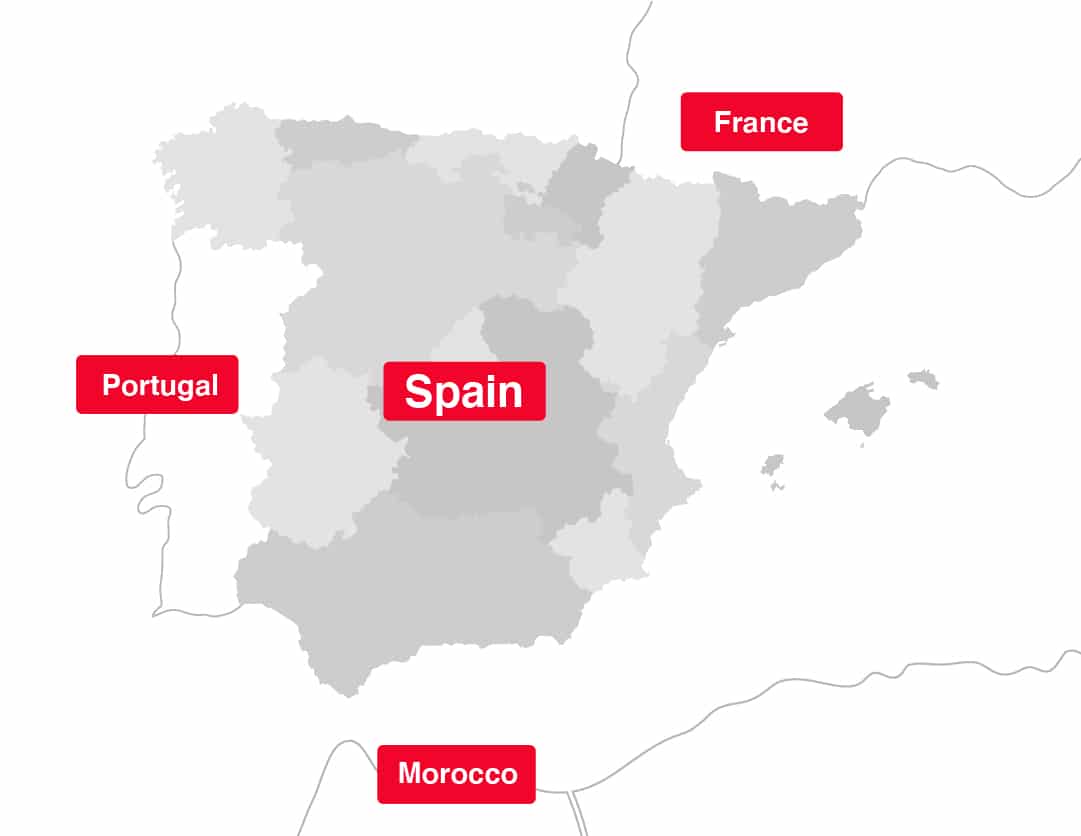 Sevilla
With a population of 700,000, Sevilla is the country's fourth largest city and a major transport hub that connects much of southern Spain. It stands out prominently thanks to its strong cultural identity and its long and distinguished history, a fact that is also visible in the city's architecture. Crumbling Roman ruins, giant Moorish bell towers, the world's largest Gothic cathedral, staggering modern bridges and towers and a magnificent viewing platform built atop the world's largest single wooden structure all tell the story of the various eras of this incredible city's existence.
Cadiz
Located on an island now connected to the mainland by bridge, elegant Cadiz looks straight out into the Atlantic Ocean. The strategic importance of Spain's most southerly city has been recognized by various civilizations over the past 3,000 years. Each of these civilizations have left their trace in the evolution of Spain and of Cadiz; the oldest continuously-inhabited settlement of Western Europe. Thanks to the city's role in Spain's exploration of the Americas, Cadiz is a perfect microcosm for Spain and for Spanish culture. Today Cadiz is known for its charming accent, high quality of life, 300 days of sunshine per year and exquisite local cuisine.
Others
Thanks to our partnerships and facilities located in other Spanish cities, Centro MundoLengua is able to offer other study abroad trips for college and university level students.
Customization
We at Centro MundoLengua can build a complete program that is personalized to the specific needs and educational requirements of your students. Almost all details of the package can be changed and customized with you and your students in mind.
The start-and-end dates, the duration of the program, the class length, the class frequency during the week, the class content, location (of the host city) and level and time of study during the day are only some of the details that we can customize for your students' program.
We tailor the content of the classes to match your students' needs, be it Spanish language classes, interactive courses that allow your students to learn about specific disciplines and industries (i.e. medicine, accounting, law, engineering etc.), lessons that explore and analyze Spanish literature or a series of visits and tours of some of the region's most prominent landmarks and monuments that bring Spanish history classes to life.
Education & development
Periods of study undertaken in another country always look fantastic on a CV/résumé for college and university students as they enter the labor market.
We strongly encourage students in our programs to take Spanish language classes while they are here. The benefit is not just academic and professional, but also personal; a greater comprehension of the local language will facilitate your students' progression and development during the program.
Time spent productively in a foreign country either studying or working inevitably facilitates personal growth and the development of important life skills, including resourcefulness, independence and increased confidence in one's own character and skills.
Language & culture immersion
At Centro MundoLengua, we design our customized and faculty-led programs in Spain to give international students a unique opportunity to experience Spanish linguistic and cultural immersion – something that cannot be achieved in a non-Spanish speaking country.
All classes are taught exclusively in Spanish (unless otherwise requested) to help your students learn as much as possible in the time available.
We also offer a homestay option with a local Spanish-speaking host family as an item in the package. This accommodation option gives international students an entirely unique opportunity to experience the day-to-day contemporary Spanish culture while continuing to speak and practice Spanish in a friendly, supportive environment. All host families that work with us are carefully selected through a multi-stage process, and in our experience many of our international students in our programs really enjoy and get a lot out of the homestay experience.
Social & cultural activities
Centro MundoLengua understands that college and university level students participating together in a customized or faculty-led program to learn

Spanish

or about the Spanish culture and/or history while staying in Spain want to enjoy their stay as much as possible. We organize a program of social, cultural and recreational activities for students that give them opportunities to socialize together and relax while practicing Spanish and learning more about their field in question.
Cultural activities can include life Flamenco shows, Sevillana dance classes, visits with guides to some of the most iconic landmarks of the city in question, paella cooking workshops and many more.
Social and recreational activities can include, but are not limited to, kayaking, cycling tours, beach yoga and other beach sports, language exchanges and hiking.
Excursions further afield are possible. Popular excursion destinations for our students include many of Spain's major cities, Lisbon in Portugal and Morocco in North Africa.
Customized and faculty-led programs in Spain
What's Included?
Fully customizable. You choose the dates and content of your program. Some components could include:
Pre-departure consultation and advice.

Airport reception with a representative from Centro MundoLengua at the nearest airport to the location of your program.
Initial orientation walk in the city in question.
Full tuition for the duration of the program by native-speaking Spanish teachers who are specialized in teaching Spanish as a foreign language.
Official certificate that confirms student participation in the program.
Accommodation and full board with a local Spanish-speaking homestay family (with other accommodation options available).
Program of social, cultural and recreational activities during the program.
Excursions further afield.
Volunteer opportunities during the semester.
24-hour assistance.
Medical insurance during the program.
Request information about this program