Objectives:
Prepare for your DELE exam in the best place to do so: Spain itself!
Program Dates:
All-year-round.
Levels:
All levels of Spanish.
DELE exam preparation in Sevilla, Spain
Upcoming DELE Spanish exam? Not sure how to prepare for it? Struggling to know the best way to prepare for your Diploma in Spanish as a Foreign Language Exam? We have the answer.
Since 2005, Centro MundoLengua has been offering the very best DELE exam preparation courses that have helped countless Spanish students prepare for and pass their upcoming exams. At our modern facility right here in the center of Sevilla, our Spanish courses deliver internationally accredited courses based around the exam scoring criteria that aid your preparation for your DELE exam. 
Our team of native-Spanish speaking teachers are all specialized in teaching Spanish as a foreign language, and the content of our classes will be adapted to match your specific level of Spanish. Our DELE preparation course lasts two weeks, and we at Centro MundoLengua create an experience that is fully immersive, culturally as well as linguistically, to give you the very best opportunity to prepare for your DELE exam. And in the heart of the fabulous city of Sevilla, you may find yourself falling in love with the Spanish language all over again….
Benefit from Spanish language teaching that has received formal accreditation from the Instituto Cervantes.
Get the most out of every second on the program with a fully immersive experience in the Spanish language and culture.
Follow 2,000 year old footsteps in Sevilla; one of Spain's most culturally rich and architecturally magnificent major cities that receives over 2 million visitors every year.
Small class size of between 3 and 5 students and modern facilities in the center of Sevilla provide the best environment to prepare for your exam.
Prepare for your upcoming DELE exam the right way, with class content that specifically matches the exam scoring criteria.
And feel safe and secure in the hands of experts – with 24 hour responsive assistance in case of emergency.
Sevilla may be Spain's 4th largest city in terms of population size, a main transport hub for the country's south and the capital city of Andalusia (Spain's most populous region), but the fact that it receives 2 million annual tourists is primarily thanks to its position as a cultural beacon. Many of the traditions and customs that have become synonymous with Spain on an international level find their spiritual home in Sevilla. Flamenco folk music, Sevillanas dancing, bullfighting, the tapas dining concept, equestrian arts and horse riding, la Feria and Semana Santa…. all may be practiced elsewhere, but they all firmly occupy a key part of the distinguished identity of the people of Sevilla. And just as Sevilla has played an enormous role in the evolution of Spanish culture, it has also played a crucial role in the country's history. Throw in the fact that it is an extremely affordable city to spend time in and boasts a remarkably high quality of life, there really is no better location in which to participate in a DELE exam preparation course than Sevilla.
The Sevilla Cathedral
As impressive to look at from the inside as it is the outside, the Sevilla Cathedral is a UNESCO World Heritage Site and the largest Gothic cathedral in the entire world. Once inside, visitors never fail to marvel at the giant central nave with 80 individual chapels lining it. Equally deserving of recognition are the tomb of Christopher Columbus and the fantastic collection of ecclesiastical paintings, icons, carvings, sculptures and altarpieces to be found inside. And the best thing about the Sevilla Cathedral? It's only a 5 minute walk from the Centro MundoLengua offices!
The Giralda
The cathedral's bell tower, referred to affectionately as "La Giralda" by locals, fully warrants its own separate mention on this list. Originally the minaret that formed part of the mosque built by the Moors on this very site, after the capture of Sevilla by the Castilians in the 12th century it was incorporated into their cathedral. It is no surprise that at a staggering 340 feet above ground that it can be seen throughout the city, and its place as the most iconic landmark of Sevilla means that true Sevillanos always feel at home whenever they see it.
The Royal Alcázar
The Real Alcázar is a 14th century palace and reported to be the finest example of Mudéjar architecture in all of Andalusia. So beautiful is this network of patios, courtyards, corridors, pools, fountains, plazas and of course palace that it was used as a film location for the hit tv series "Game Of Thrones". A day spent wandering among the peaceful orange trees and proud local peacocks in this UNESCO World Heritage Site is always a delight.
Barrio de Santa Cruz
The locals say that it is possible to travel back in time when you step inside the Barrio de Santa Cruz…. This labyrinthine network of cobbled streets, enchanted plazas and narrow alleyways seem permanently isolated from the hustle and bustle of the modern world behind a series of solid stone walls. As such, the more time you spend wandering the Barrio and gazing upon its countless information plaques and shrines that tell the remarkable stories of the people who have lived here over the centuries, you may just convince yourself that you have indeed stepped back in time….
The Plaza de España
In a remarkably short time, the Plaza de España has become one of Sevilla's most popular attractions. This enormous semi-circular edifice located between the Barrio de Santa Cruz and the Parque de María Luisa was constructed as recently 1928 and was used as a filming spot for the Star Wars franchise. It receives thousands of visitors every single day, and together with its soaring towers, slender archways, rising fountain, low bridges, shallow canals and elegantly tiled alcoves each dedicated to a different Spanish province provide an almost limitless amount of spectacular photo opportunities.
Metropol Parasol
Known locally as "Las Setas" thanks to its close resemblance to a giant mushroom growing in a gap in the city skyline, the Metropol Parasol is one of the city's most unusual landmarks. Upon arrival, a visitor's eyes are immediately drawn upward to the largest single wooden structure in the whole world. Make sure to check out the Roman ruins preserved below ground, but as the sun begins to set below the horizon, climb right back to the top in order to enjoy some of the best evening views of all Sevilla.
Other attractions
But there is so much more to see! Some other popular attractions and landmarks in Sevilla include;
Plaza de Toros; the "cathedral of bullfighting" located fairly centrally in the city.
Palacio de las Dueñas; a 15th century palace where the noted poet Antonio Machado was born is popular thanks to its elaborate flower-covered facade and unusual mix of both Moorish and Gothic designs.
Torre del Oro; a 13th century riverside watchtower and fortification that glows a spectacular hue of gold during sunset.
Archivo de las Indias; another centrally-located UNESCO World Heritage Site, where some of Spain's most important historical archives, records and documents and stored in safe keeping.
A huge array of excellent museums. Some of the most popular include the Flamenco Museum, the Archaeological Museum of Sevilla, the Sevilla Museum of Fine Arts and the Museum of Popular Arts and Traditions, to name a few.
We encourage anybody considering this program to take our Spanish level test so we can check your existing level of Spanish.
Take the quiz
Classes
Classes in our DELE exam preparation course take place in small groups of typically between 3 and 5 people, guaranteeing a large degree of teacher-pupil contact time.
All classes take place in the Centro MundoLengua facility; a modern and light space right in the heart of Sevilla that is easy to reach.
All classes take place in Spanish for the duration of the program to ensure that students spend as much time as possible speaking, practicing and learning Spanish.
Students in our DELE exam preparation course will receive 3 hours of daily instruction, split between 4 separate classes lasting 45 minutes in length.
Teaching
Our facility in Sevilla and the educational programs that we conduct here have received formal accreditation from the Instituto Cervantes; the only international accreditation body that is dedicated exclusively to entities that teach Spanish as a foreign language.
Participants in our DELE exam preparation courses therefore receive classes that are based on the scoring criteria of the Diplomas in Spanish as a Foreign Language, while also practicing with exercises and questions that test their reading, listening, writing and speaking abilities in Spanish.
Our teachers at Centro MundoLengua are all native Spanish speakers and are specialized in teaching Spanish as a foreign language.
Development
Our DELE exam preparation Spanish c

ourse

is adapted

 to the specific scoring criteria of the DELE exam (as set by the Instituto Cervantes), with the use of practice DELE exams from previous years in order to prepare you for your exam.
Our DELE exam preparation courses are for students who are preparing for their exam at all levels of proficiency. This means that the content of our classes can be set to all levels of the Common European Framework of Reference for Languages, from A1 to C2.
In some cases, it may be possible for participants in our DELE exam preparation Spanish course to request specific class content and private lessons from their teacher. This can be an increased focus on specific topics of vocabulary, revision of complex grammatical structures or particular emphasis on speaking and listening exercises.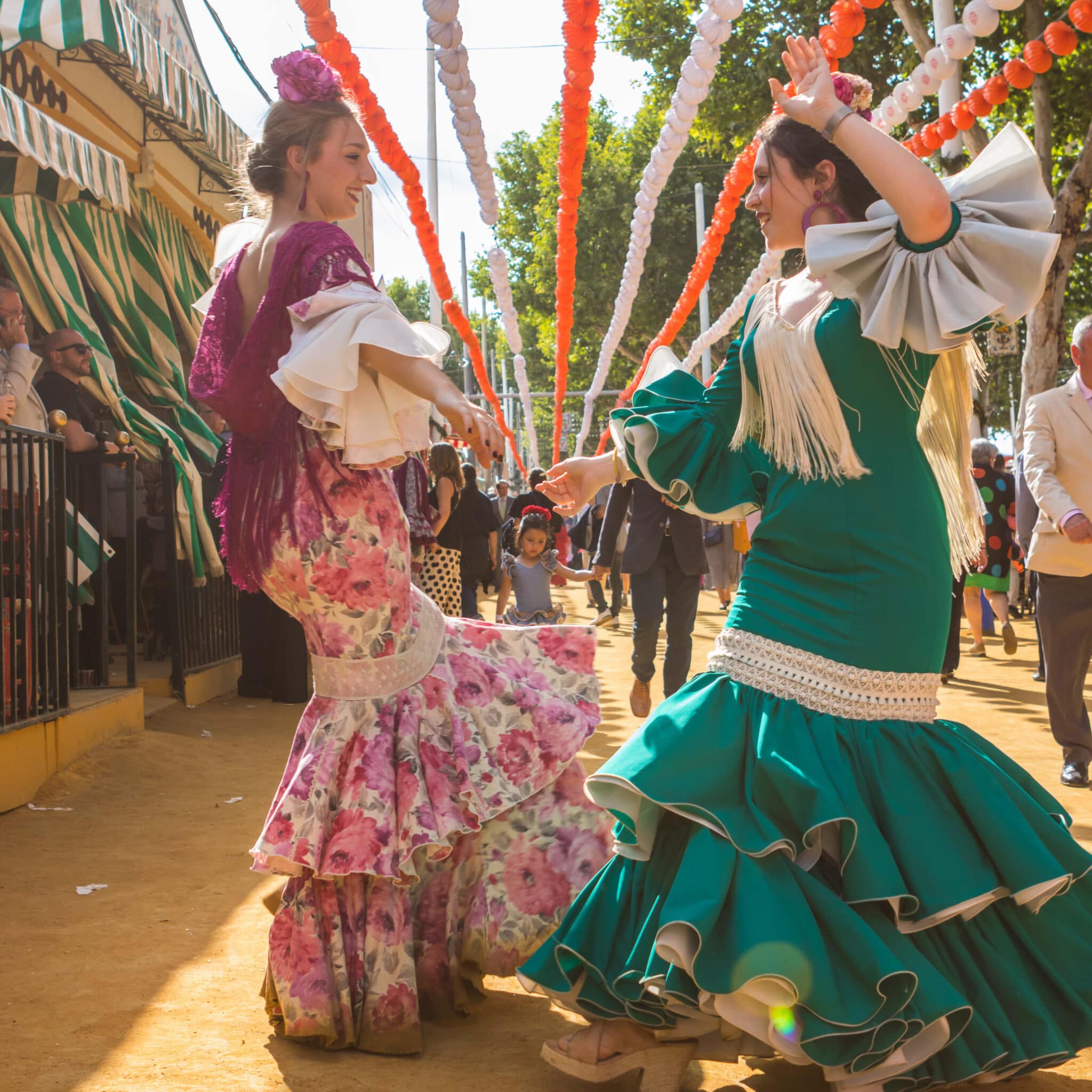 Language & culture immersion
We at Centro MundoLengua deliver Spanish language courses that offer a unique opportunity for students to experience true linguistic and cultural immersion.
We believe this is the best way to improve an individual's proficiency in Spanish as much as possible in a short space of time.
We encourage students to fully take advantage of their time living in Sevilla by continuing the linguistic immersion process in everyday life! During your time in Sevilla, you will be presented with countless opportunities in the street, at restaurants, travelling with public transport and exploring the city – every second presents a new opportunity to practice your Spanish in order to get the maximum out of the program.
The total will be divided in 1 deposit due today and 1 final payment. The final payment will be due 8 weeks prior to the program start date.
DELE exam preparation in Sevilla, Spain
Jan 30th – Feb 10th, 2023
See installment payments details
Deposit: Today
Final payment: December 05, 2022
DELE exam preparation in Sevilla, Spain
See installment payments details
Deposit: Today
Final payment: January 23, 2023
DELE exam preparation in Sevilla, Spain
See installment payments details
Deposit: Today
Final payment: February 27, 2023
DELE exam preparation in Sevilla, Spain
See installment payments details
Deposit: Today
Final payment: April 10, 2023
DELE exam preparation in Sevilla, Spain
See installment payments details
Deposit: Today
Final payment: July 31, 2023
DELE exam preparation in Sevilla, Spain
See installment payments details
Deposit: Today
Final payment: August 14, 2023
Pre-departure advice and consultation.
Three hours of DELE exam preparation Spanish classes per day split into 4 classes each lasting for 45 minutes.
Class materials.
Official certificate that acknowledges your completion of the program.
24-hour assistance for the duration of the program.
Optional package add-on of accommodation and full board with a homestay family.
Optional package add-on of a program of social, cultural and recreational activities.
Optional health insurance add-on

Optional package add-on of transfer to and from Sevilla airport.
Request information about this program
You may also like...
From

295

€