Objectives:
Combine a family vacation in Spain with Spanish language classes!
Levels:
All levels of Spanish.
Spanish immersion programs for families in Sevilla, Spain
Looking for new family holiday ideas? Fed up with the same old beach holidays, camping weeks and skiing trips? Would you prefer something that combines fun, experience, culture and maybe even some education? Then perhaps a Spanish immersion program in the heart of a stunning international city with the whole family is the option for you.
We are Centro MundoLengua, a private language school that has been running the best Spanish immersion programs for families since 2005. At our modern facilities right here in the very center of Sevilla, our team of native Spanish speaking educators deliver immersive Spanish language and culture programs for families to an internationally accredited standard. Outside the classroom, we will provide you with countless recommendations and opportunities in order to make the time your family spends in Sevilla as memorable and as exciting as possible. And with the option to tailor your Spanish immersion program around your family commitments, a study program with Centro MundoLengua may be exactly what you have been looking for!
Experience Sevilla; an enchanting city with over 2,000 years of history and a cultural scene more vibrant than any other Spanish city. 
A team of native Spanish speaking teachers specialized in teaching Spanish as a foreign language, as well as internationally accredited standards of teaching.
Benefit from cultural and linguistic immersion throughout the course that allows you to get the most out of every single minute here.
Enjoy the benefit of a local team with vast experience of conducting study abroad programs in Sevilla – with countless recommendations for extra-curricular activities.

A great deal of flexibility concerning the class and program structure – meaning you can study Spanish as a family around your commitments.
Feel secure with 24 hour emergency assistance – just in case of emergency.
Traditional and progressive, modern and ancient, busy and relaxed…. Sevilla seems to contradict itself constantly. Andalusia's capital and Spain's fourth largest city welcomes over 2 million visitors every single year. Some come for the history; over 2,000 years of human activity is still visible in all around the city. Some come for the architecture; Gothic cathedrals, Moorish bell towers, elegant high-rise office blocks, super-modern bridges, giant sports venues and even a space rocket can be seen across the Sevilla skyline. Some come for the lifestyle; the local cuisine and consistently warm temperatures guarantee some of the highest living standards available anywhere in the country. And some come for the culture; Sevilla is the spiritual home for many of the customs and traditions that have become synonymous with Spain on an international level, including Flamenco music, Sevillanas dancing, horse riding and equestrian arts, bullfighting, Semana Santa and Feria. But whatever the reason for visiting, one thing is sure; the only adjective that doesn't accurately describe Sevilla is boring.
The Sevilla Cathedral
The world's largest Gothic cathedral is the logical place to begin this list of Sevilla's principle landmarks. This UNESCO World Heritage site is the final resting place of a certain Christopher Columbus, whose tomb can be seen by visitors. Only 5 minutes' walk from the Centro MundoLengua headquarters, the cathedral of Sevilla is as impressive to look at inside as it is outside, with a fantastic array of ecclesiastical artwork including paintings, icons, carvings and sculptures.
The Giralda
The bell tower may now be adjoined to the cathedral, but in the past it formed part of the mosque that stood on this site. This former minaret is 340 feet tall and can be seen throughout the city. Anybody who manages to climb right to the top is rewarded with fabulous views of the city, and its image is one that always makes true Sevillanos feel at home. After the Castilians captured Sevilla from the Moors in the 12th century, their designs for their cathedral simply accommodated the famous Giralda.
The Royal Alcázar
Viewers of the hit television series may recognize this 14th century palace. Another of Sevilla's UNESCO World Heritage Sites, the Real Alcázar is said to be the finest example of uniquely Andalusian Mudéjar architecture in the world. One afternoon spent wandering among its patios, corridors, fountains, peacocks, courtyards, pools and of course palace and you will definitely understand why it is so popular.
Barrio de Santa Cruz
No neighborhood in Sevilla is quite as magical as Santa Cruz. Its narrow alleyways, enchanted plazas, low archways and cobbled streets of "The Old Jewish Quarter" certainly have a curious ability to keep the modern world at bay. And as you wander the Barrio, gazing up at the countless information plaques that immortalize the stories of countless residents of centuries gone by, you may start to convince yourself you are travelling back in time also.
The Plaza de España
It hasn't taken much time for this giant semi-circular edifice to become one of Sevilla's most popular landmarks. Completed as recently as 1928, the Plaza de España receives thousands of visitors every single day who come to enjoy its delightful array of soaring towers, arching fountain, low bridges, cavernous archways, boating canals and tiled alcoves dedicated to each one of Spain's provinces. And thanks to its ideal location opposite the 100-acre Parque de María Luisa, it has even been the choice filming location for even a Hollywood director or two.
Metropol Parasol
The ancient and modern faces of Sevilla join forces at one of the city's most curious landmarks. The Metropol Parasol has been nicknamed "Las Setas" by locals who decided that it resembles a giant mushroom growing up in a gap in the city skyline. Visitors' eyes are immediately drawn upward to the single largest wooden structure in the world. Below ground lie the accessible remains of Roman-era Sevilla, but as the sun begins to set, make sure you climb to the top in order to enjoy the best evening views possible in the whole city.
Other attractions
Yet that is not all! Other leading landmarks in Sevilla include;
Torre del Oro; a 13th century watchtower down on the banks of the river that glows a stunning shade of gold in the early evening.
Archivo de Indias; located close to the Real Alcázar and the cathedral, this UNESCO World Heritage Site houses some of Spain's most important historical archives and documents.
More museums than you could ever imagine. Some of our favourites are the Museum of Popular Arts and Traditions, the Archeological Museum of Sevilla, the Sevilla Musuem of Fine Arts and of course, the Flamenco Museum.
Plaza de Torros; the "Cathedral of Bullfighting" is one of the world's most famous bullrings.
Palacio de las Dueñas; the birthplace of poet Antonio Machado, this 15th century palace is known for its unconventional yet very striking combination of both Moorish and Gothic architectural styles.
Experience
Looking for a unique holiday experience? Tired of beach holidays, camping and skiing trips? A Spanish immersion program together with the whole family may be what you are looking for.
A period of study together as a family will help you get the most out of your time together in a productive way, while still enjoying your time in a foreign environment.
If you prefer, you whole family can study together in the same class for the duration of the program, ensuring that you will continue to grow as a family throughout the program. Alternatively, we can split family members into different classes if there is a significant discrepancy in the current Spanish proficiency between various members of the family.
During your free time outside of the classroom, you will have countless opportunities to take part in recreational and engaging activities together. Sevilla is a major city with lots to offer visitors, and the Centro MundoLengua team is always very happy to provide students with tips and recommendations for extra-curricular activities.
Flexibility
Our Spanish immersion programs allow for a great degree of flexibility for you and your family. We tailor the class content in order to match your specific linguistic needs and current proficiency. If you have never studied Spanish before or if you and your family simply need a refresher course, we absolutely can accommodate your existing level of Spanish.
If you travel with young children, we are able to occupy and entertain them with fun activities and games while you enjoy your Spanish classes.
Your family can choose to participate in our Spanish immersion program at any time of the year. Regardless as to whether you are limited to participating in our program in spring, summer, fall or winter, we are able to welcome you into the program.
With respect to the program, the time and location of classes can be catered around your needs and desires. This means that your family can study Spanish with Centro MundoLengua around existing commitments. And should you like, we can even choose to conduct classes in streets, cafés and restaurants around Sevilla!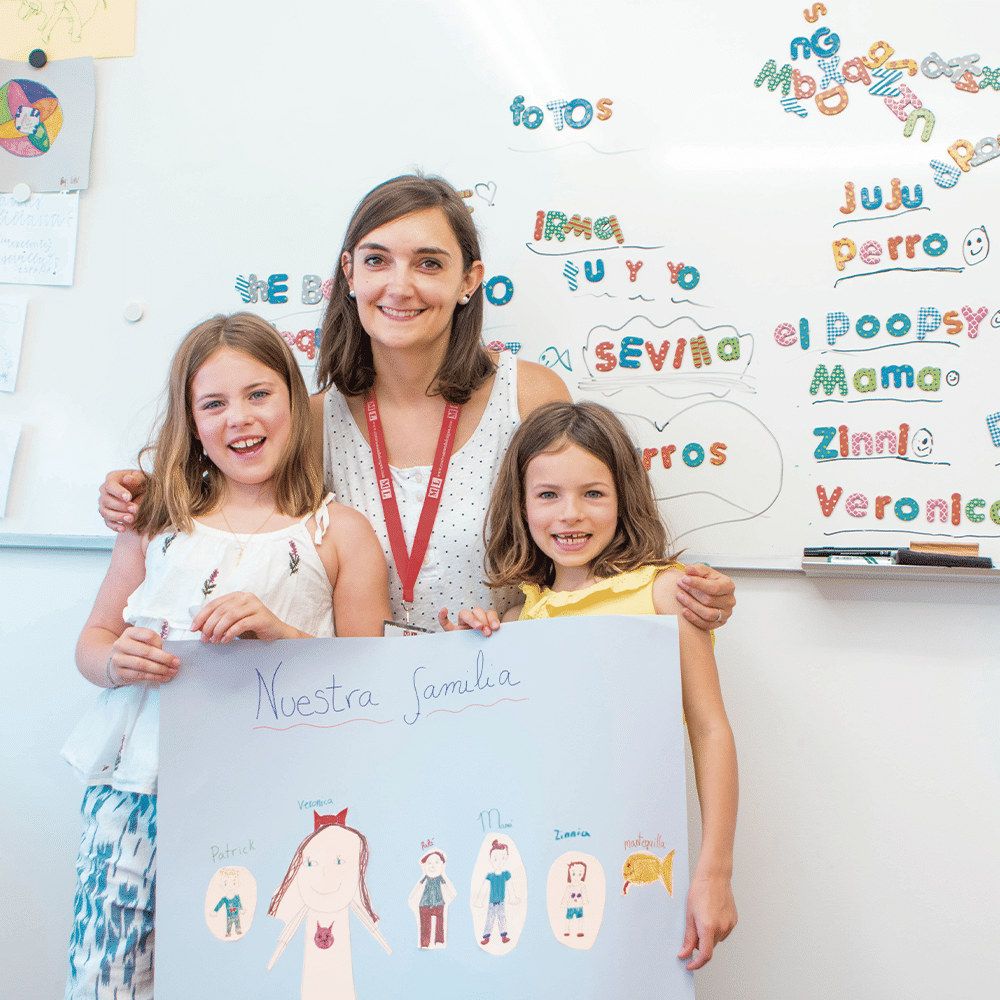 Development
For children and young adults, intensive Spanish courses in Spain represent a chance to improve their language skills outside of their regular study routine in a fun, stimulating environment.
For adults and parents, our Spanish immersion program for families represents a unique opportunity to develop skills and knowledge in a format that looks fantastic on a CV/résumé.
The benefits of studying a foreign language such as Spanish are often surprising and can include improved memory, increased brain function and an increased ability to think abstractly and problem solve.
Language & culture immersion
Centro MundoLengua's programs are designed to deliver a truly immersive experience, in terms of both language and culture.
Classes are delivered in Spanish, but at a level that is appropriate for your level of proficiency. Classes are also extremely interactive, and place a major emphasis on speaking. We truly believe that this is the best way for anybody to improve their Spanish on an intensive program.
Outside of the classroom, the linguistic immersion process continues. In Sevilla, you will have endless opportunities to build your vocabulary, practice speaking and improve your fluency in Spanish.
If you would like to pay in installments, first click on 4 INSTALLMENT PAYMENTS and then click on APPLY.
The total will be divided in 1 deposit due today and 1 final payment. The final payment will be due 8 weeks prior to the program start date.
The total will be divided in 1 deposit due today and 4 installment payments (with one payment due each month). The final payment will be due 8 weeks prior to the program start date. In the case where it becomes impossible to make 4 installment payments due to late application, students will have to make up any missed payments.
Spanish immersion programs for families
What's Included?
Fully customizable. You choose the dates and content of your program. Some components could include:
Pre-departure consultation.
Spanish classes Monday to Friday in accordance with the number of hours of tuition specified in the agreement.
All class materials used during the course.
Official certificate that confirms your participation in this program.
Help with locating the ideal accommodation for you and your family here in Sevilla.
Program of social, cultural and recreational activities.
Weekend excursions.
Health insurance.
Initial orientation walk in Sevilla.
24-hour assistance.

Airport reception with a representative from Centro MundoLengua and transfer to and from Sevilla airport.
Request information about this program