Objectives
Spend a full semester in Sevilla while improving your Spanish
Program Dates
Spring & Fall semesters
Levels
At least Advanced Beginner in Spanish.
What makes a great gap year in Spain? Adventure and opportunities, exploring and embracing a totally new culture, visiting as many new places as possible, new friendships with amazing people and the knowledge that you're in a safe environment. Spain offers the right ingredients for the perfect gap year, and with Centro MundoLengua's gap year in Spain program, that awesome living abroad experience is a few clicks away!
Our gap year in Spain program will bring you into the heart of Spanish life with full cultural immersion, language classes to get you speaking like a local, direct work with the community and the chance to live the authentic gap year life in one of Europe's most magical cities. In vibrant and cosmopolitan Sevilla, you will be surrounded by beauty, culture and history whichever way you turn, but with our activity program you'll be able to see even more with trips to many other cities in Spain, Portugal and Morocco. There has never been a better time for a gap year in Spain, and with Centro MundoLengua, it's never been easier.
Full cultural and language immersion during your stay with a local host family to live with.
Live in one of Europe's most historic cities with over 2,000 years of recorded history packed into every single square metre.
Private Spanish language classes tailored to your level and needs to get you speaking like a local in no time.
The chance to make a difference in the local community with volunteering opportunities for good causes.
A jam-packed program of recreational and leisure activities to make your gap year in Spain truly unforgettable.
24 hour round-the-clock support for the duration of your stay to ensure your safety and wellbeing.
Sevilla is the perfect microcosm of Spain in many ways. Its stunning architecture and vibrant cultural heritage have been shaped by the Roman, Moorish and Castilian eras of the country's past, and around every corner you will find something worth a photograph, be it a private Arabic garden surrounded in hand-crafted tiles, a bustling tavern selling a great value lunch made with fresh local ingredients or a quaint, secluded plaza offering residents some shade from the midday sun. But even though Sevilla represents the whole of Spain, it also maintains its own unique identity. Citizens of the country view the city's bold traditions and even bolder people with a great deal of romanticism – so no wonder so many people who do a gap year in Sevilla, Spain find themselves staying forever!
The Sevilla Cathedral
One of the architectural gems of Andalusia, the Sevilla Cathedral is well deserving of its UNESCO World Heritage status. Situated only 5 minutes' walk from the Centro MundoLengua headquarters, the world's largest gothic cathedral was originally a Mosque constructed in the 12th century that was then converted into a church following the Castilian reconquest of the city. You can never truly get a good feel for its enormous size until you enter and lose yourself among the 80 chapels that surround the central nave, the outstanding collection of ecclesiastical art inside and the resting place of Christopher Columbus.
The Giralda
But of course, the main focus point of the Sevilla Cathedral is the magnificent Giralda; the 340 foot tool bell tower that is visible wherever you go in the city. Though it may appear daunting at first, the climb up all those stairs to the top is definitely worth the views that await you; a civic decree means that no building east of the Guadalquivir River can be built taller than this former minaret.
The Royal Alcazar
Literally next door is another of Sevilla's most popular tourist attractions. Viewers of Game Of Thrones may recognise the iconic archways, elegant gardens and majestic plazas inside this UNESCO World Heritage Site. Considered one of the best examples of Mudejar architecture anywhere in the world, the Alcázar is one of Europe's oldest royal palaces still in use and is the official residence of the Spanish royal family during their visits to Sevilla.
Barrio de Santa Cruz
Listen hard enough and they say you can still hear the spirits of the former residents of the Old Jewish Quarter whispering at from you from deep within its walls…. No two walks through this mysterious maze of narrow alleyways and cobbled streets are ever the same. The Barrio de Santa Cruz is one of Sevilla's oldest and most legendary neighbourhoods, and the narrowness of its streets mean that the deeper you walk in, the more you leave the hustle and bustle of the modern world behind you.
The Plaza de España
One of Sevilla's most popular attractions may also be its youngest. Constructed as recently as 1928, this semi-circularly plaza is often the first stop for many visitors. The main edifice, central fountain, low bridges, shallow canals and tiled alcoves offer a thousand different photo opportunities and have even been the filming locations of many Hollywood movies. And if the heat becomes a bit too great while you explore the Plaza de España, you can easily take 10 minutes to relax in the cool shade of the 100 acre Parque de Maria Luisa opposite.
Metropol Parasol
The single site that most perfectly captures the old and the new of Sevilla at the same time, "Las Setas" (known to the locals as "The Mushrooms") is a modern masterpiece built above a site of Roman ruins below ground (which you can still visit!). The extraordinary structure of the Metropol Parasol is the largest single wooden structure in the entire world, and on top is a platform you can visit to take the very best photos of the city around you as the sun begins to set.
Other attractions
But that's just the beginning! The magic of Sevilla continues with almost too many world class attractions and monuments to count;
One of Spain's most legendary Plaza de Toros.
The Archivo de Indias UNESCO World Heritage Site where some of the country's most important historical documents are guarded.
The 13th century Torre de Oro that shines bright gold in the early evening over the river.
The Palacio de las Dueñas – birthplace of poet Antonio Machado and an eclectic mix of 15th century Gothic and Moorish architecture with a striking exterior facade.
And more museums than you can imagine, such as the Flamenco Museum, the Museum of Fine Arts, the Archaeological Museum of Sevilla and the Museum of Popular Arts and Traditions.
Valid passport
Student visa for entry to Spain
At least advanced beginner in Spanish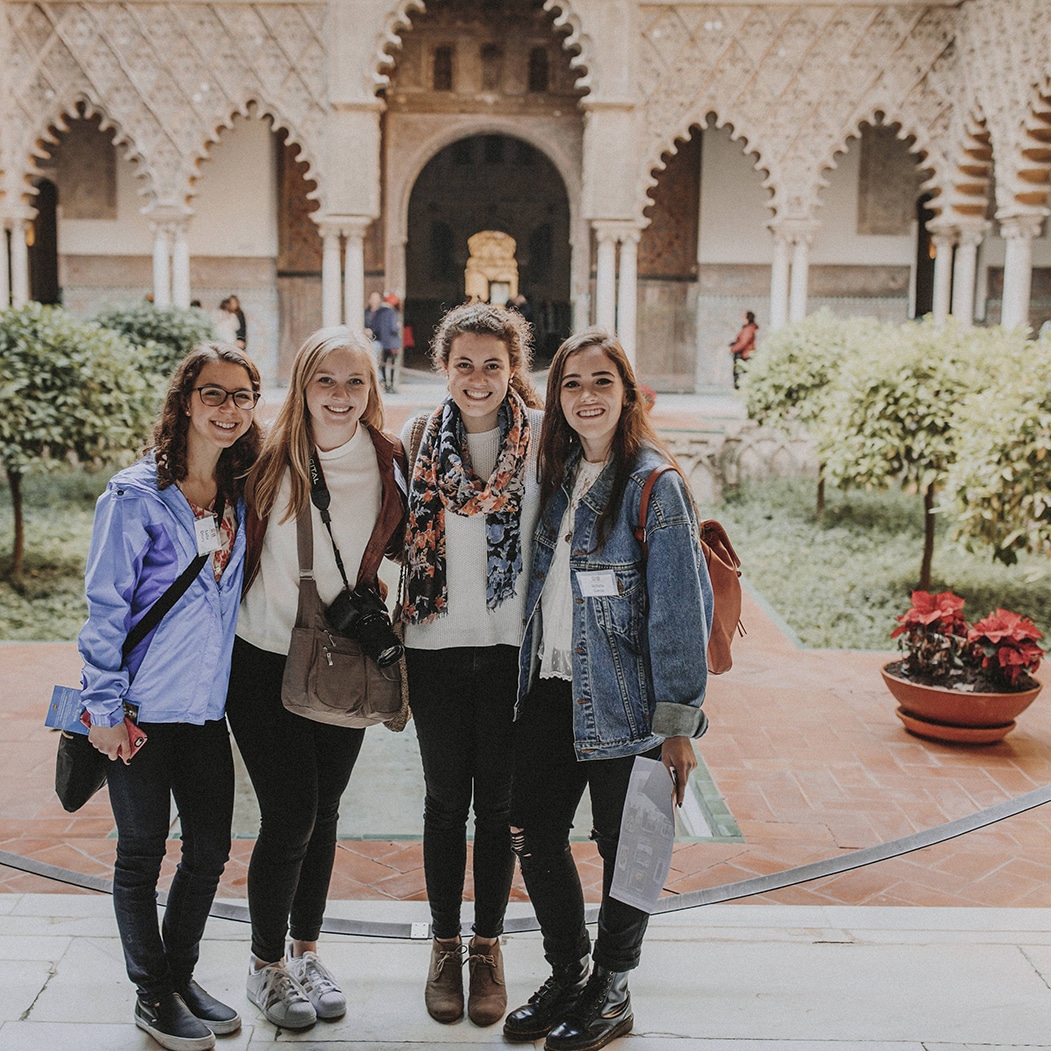 Social & cultural activities
An activity program will give you the chance to explore the Spanish lifestyle and culture in a fun and structured way. The activities include Salsa workshops, Flamenco shows, paella cooking classes, cycling tours of the city, language exchanges, a kayak session along the Guadalquivir River and tapas evenings.
The program includes guided visits to some of Sevilla's most famous and popular sites and attractions, such as Sevilla Cathedral, the Giralda, the Real Alcázar, the Plaza de España and the Itálica Roman Ruins just to name a few.
You will dive into the city like a local with our Seminar in History, Traditions and Gastronomy for 15 weeks (45 h – two 90-minutes sessions per week).
Excursions
Our Gap Year in Spain program includes excursions further afield! In the past, some examples of excursions have included Barcelona, Madrid, Granada, Malaga, Lisboa, and Morocco.We understand that gap year students often want to see as much of the world as possible during their time abroad, and our guided excursions facilitate this in the safest and most convenient way possible.
There will be weekends when there is no activity planned. Participants in our gap year programs in Spain have often taken advantage of these moments to organise their own excursions in this time. The Centro MundoLengua staff members are very happy to help provide any recommendations, tips and information to any course participant who would like to make their own excursions.
Volunteering & "Sevilla and the Community" class (subject to availability)
We understand that many gap year students appreciate the chance to make a positive difference to the communities where they spend their year. That is we why at Centro MundoLengua work with a wide range of partner organisations to offer volunteering opportunities in the local area to our students and program participants.
Also subject to availability is a "Sevilla and the Community" course in which our professors teach about the history of various socio-economics and political topics in Spain and how they affect Spanish society today.
Spanish classes
Full private Spanish language course for the duration of the program (90 hours in total).
The content of the classes will be tailored to the needs and ability of each individual program participants.
Language and culture immersion
Full immersion in the Spanish culture for the duration of the gap year in Spain thanks to a homestay experience with a local family.
The homestay experience provides students with a comforting and secure environment in which they can continue to practice and develop their Spanish by having conversations every single day as well as learning the actual language and vocabulary used by the Spanish on a regular basis.
Our host families are selected via a strict process so that we can make sure that only suitable families host students on our programs. Participants also evaluate their homestay experience and the family during and after their visit so that we can maintain our high standards and guarantee a safe and fun experience for everyone.
Development
Employers in the modern job market are increasingly valuing periods of life spent in a foreign country such as gap years as they recognise the personal value that these experiences have.
The challenges of living in a foreign country help you learn how to tackle and solve problems head on that improve your self-confidence as well as allowing your mind to structure new information differently that often results in improved long-term memory and the ability to think abstractly.
Participants in our Gap Year in Spain program are constantly interacting with other Centro MundoLengua course and program participants – giving them a unique opportunity to network and socialise with people from all over the world.
If you would like to pay in installments, first click on 4 INSTALLMENT PAYMENTS and then click on APPLY.
The total will be divided in 1 deposit due today and 1 final payment. The final payment will be due 8 weeks prior to the program start date.
SPRING SEMESTER
January 18th – May 20th, 2023
Deadline: Dec 1st, 2022
At least advanced beginner in Spanish
See installment payments details
Deposit: Today
Final payment: December 02, 2022
FALL SEMESTER
Sep 6th – Dec 22nd 2023
Deadline: June 30th, 2023
At least advanced beginner in Spanish
See installment payments details
Deposit: Today
Final payment: July 12, 2023
The total will be divided in 1 deposit due today and 4 installment payments (with one payment due each month). The final payment will be due 8 weeks prior to the program start date. In the case where it becomes impossible to make 4 installment payments due to late application, students will have to make up any missed payments.
SPRING SEMESTER
January 18th – May 20th, 2023
Deadline: Dec 1st, 2022
At least advanced beginner in Spanish
See installment payments details
Deposit: Today
1º installment payment: December 02, 2022
2º installment payment: December 02, 2022
3º installment payment: December 02, 2022
4º installment payment: December 02, 2022
FALL SEMESTER
Sep 6th – Dec 22nd 2023
Deadline: June 30th, 2023
At least advanced beginner in Spanish
See installment payments details
Deposit: Today
1º installment payment: April 19, 2023
2º installment payment: May 17, 2023
3º installment payment: June 14, 2023
4º installment payment: July 12, 2023
Pre-departure advice and consultation

Airport reception with a representative from Cento MundoLengua and transfer to and from Sevilla airport
Initial orientation walk in Sevilla
Private Spanish classes (40 hours in total)
Accommodation and full board with a homestay family
Program of social, cultural and recreational activities (1 activity per week)
2 weekend excursions included (Friday through Sunday)
Volunteer opportunities
24-hour assistance throughout the program in case of emergency
Health insurance
Request information about this program