Objectives:
Help your employees improve their Spanish language skills in a friendly atmosphere!
Program Dates:
All year round.
Levels:
All levels of Spanish.
Corporate Spanish language training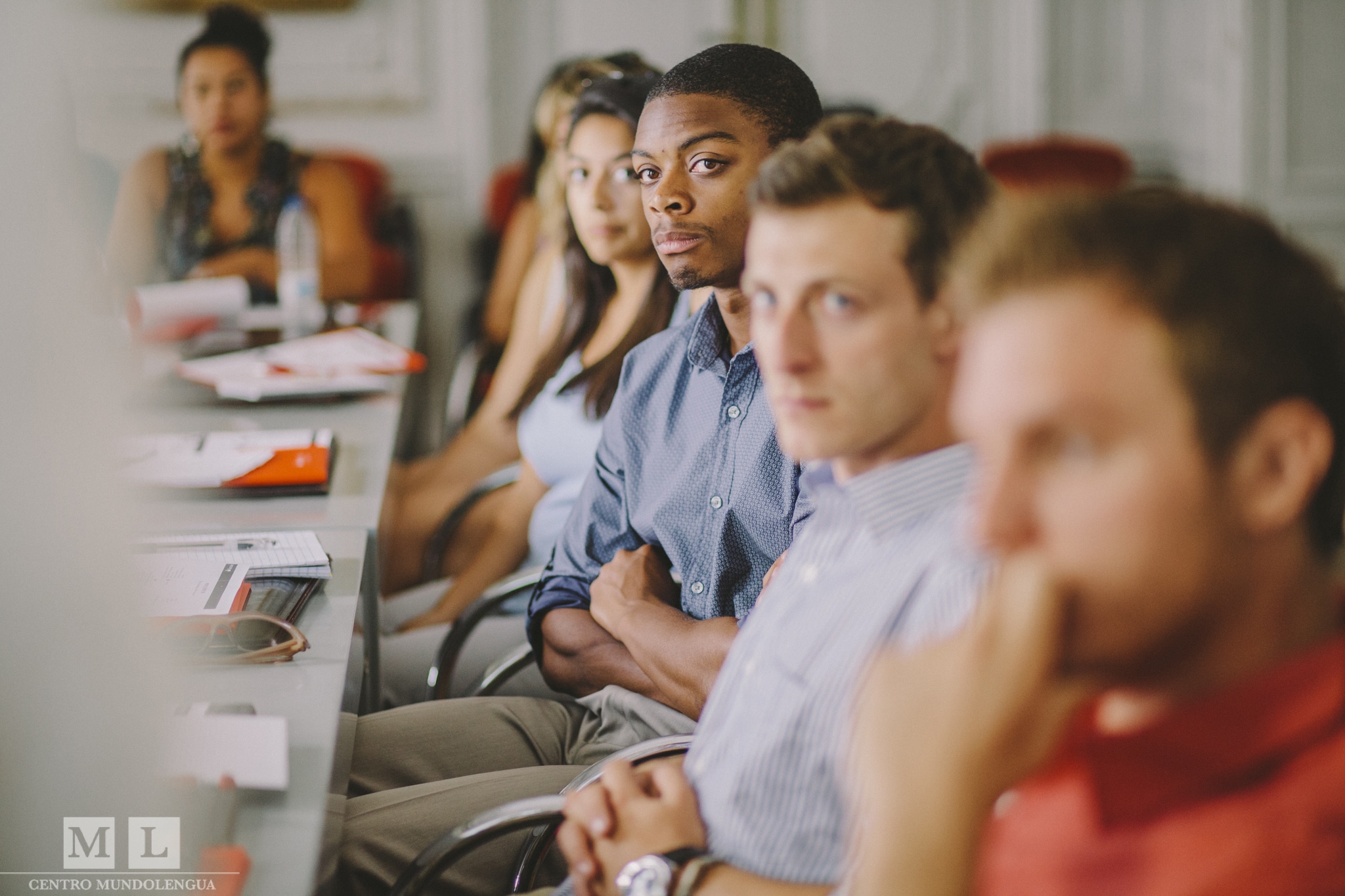 Need a corporate training program to boost your colleagues' proficiency in the Spanish language? Would your organization benefit from a workforce that is more experienced with international markets? And would you like to empower your business with greater knowledge of the industry practices, market conditions and business culture of Spain?
Look no further. Centro MundoLengua is a private language school located in Spain that has offered the very best corporate language training programs in Spanish since 2005.
At our modern facility located in Sevilla, you and your colleagues have the opportunity to develop your industry and function-specific proficiency in Spanish with a fully immersive course that can be entirely customized to your organization's and colleagues' needs. Our team of native-Spanish speaking teachers can deliver the perfect courses to give you and your colleagues the knowledge and comprehension that will give your business the competitive edge it needs when working with international markets and Spanish speaking suppliers and clients. And here in Sevilla, you will have countless opportunities not just to practice Spanish with natives, but to continue learning how international markets behave – and how foreign customers think.
The chance to experience Sevilla; the culturally rich Andalusian capital city with over 2,000 years of recorded human history.
A fully immersive experience throughout the program inside and outside the classroom to boost your colleagues' proficiency in Spanish.

Customizable class content – create the ideal course specific to your industry and to your discipline in order to advance your colleagues' professional skills and career.
Internationally accredited tuition from a team of native Spanish-speaking teachers who are specialized in teaching Spanish as a foreign language.

Flexibility in the program structure and day-to-day itinerary of the classes that can be shaped around your colleagues' professional and personal commitments.
Responsive assistance from the attentive Centro MundoLengua team 24-7 in case of emergency.
Modern and ancient, progressive and traditional, busy and slow-paced…. Sevilla's constant self-contradictions fail to make any sense – until you finally get here. Spain's 4th largest city is the capital of Andalusia and a major transport hub for the southern half of the country, but it is Sevilla's rich history and bountiful culture that attract over 2 million visitors every year. On the banks of the Guadalquivir River are countless architectural gems that tell the story of the various eras of the city's history, including Moorish minarets, Gothic cathedrals, medieval towers, hyper-modern bridges, illuminated skyscrapers and even a dormant space rocket. And the only thing that Sevilla offers in greater abundance than beauty is culture. Many of the traditions that Spain has become synonymous with on an international level find their spiritual home among the narrow alleyways and refined plazas of this city; including equestrian arts and horse riding, Semana Santa and La Feria, bullfighting, Sevillanas dancing and of course fiery Flamenco folk music. As such, perhaps the only adjective that will never accurately describe Sevilla is "boring".
The Sevilla Cathedral
There is no better place to start this list than the Sevilla Cathedral. The world's largest Gothic cathedral is a registered UNESCO World Heritage Site and the final resting place of a certain Christopher Columbus, whose tomb lies within. Magnificent to look at from afar, the cathedral also delights from within; a giant central nave is lined with 80 separate side chapels, and one of the finest collections of ecclesiastical artwork, paintings, sculptures and icons anywhere in Spain.
The Giralda
Adjoined to the cathedral is La Giralda, the bell tower that actually outdates the building it stands next to. 340 feet tall, La Giralda actually used to be the minaret of a mosque that stood on this site until the Castilian capture of Sevilla in the 12th century, who subsequently incorporated it into the designs for their cathedral. La Giralda is the most iconic landmark in all of Sevilla, visible for miles around and a sight that makes every true Sevillano feel right at home.
The Royal Alcázar
Another UNESCO World Heritage Site in Sevilla is probably familiar to viewers of the hit television series "Game Of Thrones". Part of one of the most successful shows of all time was filmed right here in this 14th century Mudéjar palace situated next to the cathedral. But don't feel like you don't need to visit the Real Alcázar just because you've already seen it on TV; an afternoon walk among its patios, plazas, orange trees, fountains, pools and resident peacocks is always a captivating experience.
Barrio de Santa Cruz
Sevilla's most mystical and enchanted neighborhood is known as the Old Jewish Quarter, and many of the stories of the residents of this Barrio have been immortalized in information plaques and shrines that are dotted all around. This labyrinthine network of cobbled streets, hidden plazas, criss-crossing alleyways and high walls have a curious way of keeping the modern world firmly outside while preserving the spirit of Sevilla as it used to be. Around every single corner awaits another dazzling view to be found, and hours can be spent inside Santa Cruz without even realizing it. Maybe that's way they say that Santa Cruz has the ability to transport you back in time….
The Plaza de España
From the arcane and ancient world of Santa Cruz, we proceed to the proud, luxurious environment of Plaza de España just next door. As you traverse the 100-acre Parque de María Luisa, the soaring towers are the first parts of the humongous semi-circular main edifice that emerge through the trees. And as you finally exit the park, the Plaza's high archways, low bridges, arching fountain, elegant boating canals and colorful tiled alcoves – each one dedicated to an individual province of Spain – will allow you to understand why the Plaza de España is one of Sevilla's most popular landmarks with not only the thousands of tourists who visit it each day, but also with a Hollywood movie director or two.
Metropol Parasol
The Metropol Parasol is one of the city's more curious landmarks that perfectly combines the old and the new. Affectionately referred to as "Las Setas" by locals thanks to its resemblance to a giant mushroom growing in an open space in the skyline, the Metropol Parasol is the world's largest wooden structure that stands over the crumbling remains of the Roman city built here 2,000 years ago. These ruins are accessible to the public, but as the sun begins to set, be sure to climb to the top of Las Setas in order to enjoy the very finest evening views available in the entire city.
Other attractions
And there is more. Other fantastic attractions and landmarks in Sevilla include;
Archivo de Indias; this UNESCO World Heritage Site next to the Alcázar and the Cathedral that houses some of the country's most important historical records and documents.
Palacio de las Dueñas; this 15th century palace where the notable Spanish poet Antonio Machado was born is famed for its unusual combination of both Moorish and Gothic architectural styles, as well as a striking exterior flower-covered façade.
Plaza de Toros; one of the world's most famous bullrings is known colloquially as the "cathedral of bullfighting".
Torro del Oro; a 13th century watchtower and fortification down on the banks of the Guadalquivir River that shines a delightful shade of gold in the evening light.
More museums than you could imagine. Some of the most popular include the Flamenco Museum, the Museum of Popular Arts and Traditions, the Archeological Museum of Sevilla and the Sevilla Museum of Fine Arts.
Flexibility
Our corporate Spanish language training program is very flexible. You can choose the start and end dates, as well as the duration you would like to study in the program.
The amount of study hours that the program contains is chosen by you. We are happy to give a recommendation of the amount of class hours we think are necessary if you explain your specific requirement with us, or alternatively quote a price for the program if you share the amount of hours you wish to study during the program.
Before you arrive, you and your colleagues are able to choose the timetable and times of the classes to suit you and your personal and professional commitments while you are here in Sevilla.
Development
Participation in a program that allows corporate and professional individuals to engage in language training will allow them to function and compete more effectively in their respective field. Increased understanding of practices, conditions and developments in the same industry by agents in another language will immediately benefit you, your colleagues and your organization.
Foreign language learning typically stimulates increased brain function. The benefits of learning Spanish with Centro MundoLengua on a personal level therefore could include increased memory, increased ability to process information quickly and an increased ability to think abstractly – all very important skills in a competitive, professional environment.
Language & culture immersion
Centro MundoLengua's corporate language training program is designed to give you and your colleagues full immersion in both the culture and language of Spain for its duration. Full immersion in a foreign language is the most effective way to boost your comprehension and command of the language in a short space of time.
All instruction inside the classroom takes place  exclusively in Spanish throughout the program.
Outside the classroom, you and your colleagues will continue to be exposed to Spanish at all times while staying in Sevilla. This thoroughly compliments the teaching process inside the classroom, and we at Centro MundoLengua thoroughly encourage anybody taking part in our corporate language training programs to embrace this continued exposure to Spanish as much as possible in order to get the most out of the experience.
If you would like to pay in installments, first click on 4 INSTALLMENT PAYMENTS and then click on APPLY.
The total will be divided in 1 deposit due today and 1 final payment. The final payment will be due 8 weeks prior to the program start date.
The total will be divided in 1 deposit due today and 4 installment payments (with one payment due each month). The final payment will be due 8 weeks prior to the program start date. In the case where it becomes impossible to make 4 installment payments due to late application, students will have to make up any missed payments.
Corporate Spanish language training
What's Included?
Fully customizable. You choose the dates and content of your program. Some components could include:
Pre-departure consultation.

Spanish classes Monday to Friday in accordance with the amount of tuition that has been formally agreed upon in the contract.
All class materials used during the course.
Official certificate that confirms your participation in this program.
Help with finding your ideal accommodation here in Sevilla for the duration of your program.
Program of social, cultural and recreational activities.
Weekend excursions.
Health insurance.
Initial orientation walk in Sevilla.
24-hour assistance.

Airport reception with a representative from Centro MundoLengua and transfer to and from Sevilla airport.
Request information about this program